July 28, 2011 -
Barry Dorey
It's official! DeSean Jackson is holding out
DeSean Jackson is looking to get paid. And until that happens, it looks like the Pro Bowl wide receiver won't be practicing.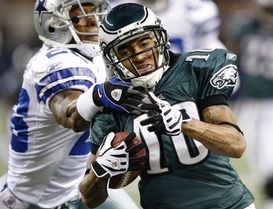 Will Jackson get the new contract he's looking for?
The Philadelphia Eagles hit the field at Lehigh University Thursday morning for their first practice of the 2011 season without their most explosive playmaker, per Jeff McLane of the Philadelphia Inquirer.
Currently under contract for one more season, Jackson's absence means he is now officially a holdout.
While Eagles fans certainly won't be thrilled to learn that one of the team's top players is currently engaged in a contract beef with the front office, keep in mind that Jackson is scheduled to make only $560,000 in base salary this season.
That's a bit on the low side for the only player in NFL history to make the Pro Bowl at two different positions in the same year.
Jackson is represented by loquacious agent Drew Rosenhaus, meaning this thing could get very interesting.
Will the Eagles give Jackson a new contract? Let us know in the NFP Forums!
Hit me up on Twitter: @JoeFortenbaugh