July 29, 2011 -
Barry Dorey
It's official: Vince Young is an Eagle
At this point you have to wonder when the last time was that anybody in the Philadelphia front office got some sleep.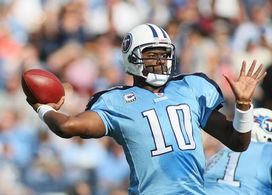 ICONVince Young is headed to Philly to join a loaded Eagles roster.
Approximately four hours after locking up cornerback Nnamdi Asomugha, the Eagles closed on a one-year deal with free agent quarterback Vince Young, the team announced via email.
The move gives the Birds a legitimate backup with starting experience in the event something happens to Michael Vick, while Young gets an opportunity to rebuild his career under head coach Andy Reid.
Sounds like a win-win for both parties.
As long as Young is ready to put in the work.
Hit me up on Twitter: @JoeFortenbaugh