March 14, 2012 -
Joe Fortenbaugh
It's raining money in Tampa
At this rate, the Tampa Bay Buccaneers are going to make the Philadelphia Eagles' 2011 spending spree look like a casual Saturday stroll through the local Target.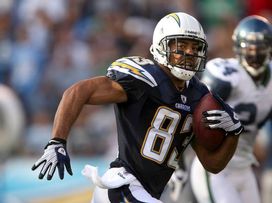 Vincent Jackson isn't the only player cashing-in with the Buccaneers.
Less than 24 hours after spending $55 million on wide receiver Vincent Jackson and on the same day that the team gave a five-year deal to cornerback Eric Wright, the Buccaneers were back in the headlines by dropping a boatload of cash on the best offensive guard in this year's free agent class.
Adam Schefter of ESPN reports that the Buccaneers have reached an agreement on a five-year, $47.5 million contract with former New Orleans Saint Carl Nicks.
The deal includes $31 million in guaranteed money.
Nicks--a four-year veteran out of Nebraska who has already earned two trips to the Pro Bowl--started every regular season game for the Saints over the last three years and has surrendered only 8.5 sacks in 64 career appearances.
In acquiring Jackson and Nicks, the Buccaneers have thrown a lot of money at the offensive side of the football in an effort to not only help franchise quarterback Josh Freeman elevate his game, but also to improve a unit that ranked 27th in the NFL in scoring last season (17.9 points per game). While the defense is still a big concern, Tampa went 4-12 in 2011 and needs help just about everywhere.
In addition, take note that the franchise still holds the fifth overall pick in this year's draft, which many are speculating could be used on the country's top running back prospect in Alabama speedster Trent Richardson.
Should the Buccaneers continue to address the offensive side of the football, this team shouldn't have trouble finding the end zone in 2012—that is—if everything goes according to plan.
Hit me up on Twitter: @JoeFortenbaugh