January 14, 2013 -
Joe Fortenbaugh
It's time for teams to hire game managers
Take a few seconds and think about how much money an NFL team spends each season for the sole purpose of making a run at the Vince Lombardi Trophy. Think about the front office personnel, stadium operations and the nine-figure roster. Consider the fact that winning football games is such a costly, yet integral, undertaking that teams employ coaches for every single position. There's a guy in every organization who makes good money overseeing the team's linebackers.
With so many different individuals tasked with running the various aspects of a professional football franchise, wouldn't it make sense to put somebody on the payroll who specializes in the intricacies of game management? When to call timeouts, when to go for two, when to challenge. How many games have we seen lost or severely compromised because of tactical blunders committed by a guy with years of experience who should know better?
No team has ever won a Super Bowl by accident. You have to successfully navigate the gauntlet of a grueling 16-game regular season to qualify for the playoffs and then you have to win a minimum of three more games against elite competition to call yourself a champion. Teams have to be precise, disciplined and well prepared. It can't feel good to watch all that work spiral down the toilet because you chose to kick a PAT when everybody in the building knows you should be going for two.
For as entertaining as it was to watch this past weekend's slate of playoff action, you can't help but wonder what might have been if some of the game's best head coaches had been assisted by somebody whose sole purpose was to calculate the odds and make the critical decisions that can aid in winning football games.
Let's begin with Denver head coach John Fox, who enters the offseason with five timeouts in his pocket. Fox's conservative game plan was costly enough. But you have to remember that this is the guy who put on the full court press last offseason to sign a future Hall of Fame quarterback in Peyton Manning…to the tune of $18 million guaranteed for 2012 alone. The Broncos went 13-3 during the regular season and earned the No. 1 seed and home field advantage in the AFC, while Manning made a solid case for his fifth MVP award.
So what does Fox do in his first playoff game with Manning under center? He has his star quarterback run out the clock at the end of each half with multiple timeouts at his disposal. The Broncos go on to lose 38-35 in double overtime and Fox spends Sunday watching Matt Ryan and Matt Schaub engineer end-of-half scoring drives in pretty much the exact same conditions he and Manning were facing against Baltimore.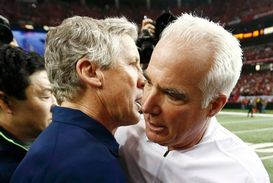 Carroll (left) and Smith both made critical errors in their playoff game on Sunday.
Speaking of Matt Ryan and the Falcons, Atlanta head coach Mike Smith might as well board a plane for Las Vegas and dump $20 into a Megabucks slot machine with the luck he had on Sunday. Leading the Seahawks 26-7 with just over two minutes remaining in the third quarter, Smith opted to kick the PAT for a 20-point lead rather than go for two and a chance at leading by three full touchdowns. Compounding the mistake is the fact that Seattle had jumped offside on the PAT attempt, meaning the Falcons only needed to advance the ball three feet to make the score 28-7.
For a point of reference, Atlanta averaged a season-high 6.4 yards per carry against Seattle on Sunday.
Just under seventeen minutes later, the Seahawks kicked a PAT of their own and took a 28-27 lead with 31 seconds to play. Smith was on the verge of another playoff meltdown and a spot in the crosshairs of both the Atlanta faithful and the national media. So what happened next?
Ah yes, Seattle head coach Pete Carroll—never one to be outdone by his opponent across the field—did his best to bail Smith out of a serious jam.
Atlanta kicker Matt Bryant is lining up for a game-winning 49-yard field goal when Carroll decides to call an "icing" timeout. Bryant gets a freebie and misses wide right, only to come back a few seconds later to send Seattle into the offseason.
I've got no problem with coaches who believe in icing the opposing kicker. But at the very least, you have to know how to properly implement the tactic. You call the timeout BEFORE the opposition begins lining up, not AFTER. This ensures that the opposing kicker won't get a mulligan, while still providing plenty of additional time for the pressure to overwhelm.
Those of you who play golf know what I'm talking about. How many times have you shanked a drive into the drink, only to immediately tee-up a second shot and pummel that little white sucker 250 down the middle? The second attempt gives you a chance to adjust your swing and reposition your alignment and nine out of ten times it produces a more favorable result. Hell, I'd be a scratch golfer if I got two attempts at every shot. It's the same thing with kickers.
Smith managed the situation poorly, Carroll made a tactical error and Fox checked when he should have been raising. All three mistakes didn't need to happen. But they did and as a result, people like me are writing about them today. We're blaming the coaches when, instead, we should all be realizing that the system is at fault. Nobody in the NFL has been willing to think outside the box and create a position within the organization specifically designed to prevent such blunders from occurring.
Head coaches already have enough on their plates. They have to prepare a game plan, make sure that it is installed properly, oversee the health of their players, make in-game adjustments and deal with the media. There are only so many hours in the day. And when the pressure is mounting and the clock is ticking, it's easy to see how some of these mistakes can happen.
But that doesn't mean these blunders can't be prevented.
Hit me up on Twitter: @JoeFortenbaugh