March 11, 2011 -
Joe Fortenbaugh
It's time for the fans to go on strike
Make no mistake about it. The billion-dollar battle that is currently being waged in Washington D.C. has only one thing to do with the fans: their wallets.
America's most popular sport is embroiled in a fight between rich athletes who want a bigger portion of a diamond-laced pie that even wealthier owners are unwilling to part with. Our favorite game has reached a critical impasse and the water is about to boil over.
Which brings us to an interesting question: How much longer would this argument last if there was no money left to fight over?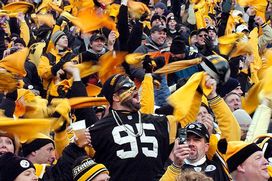 Without the fans, there would be no NFL.
The lifeblood of American sports is, has and always will be the fans. You're the ones who pay ridiculous ticket prices to watch these teams play. You're the ones who purchase jerseys, hats and God knows what else in an effort to truly represent your team's colors. You're the ones who watch this game every week, which affords networks like FOX the sickening ability to sell 30-second Super Bowl advertisements for $3 million a pop. The most passionate of you purchase the "Sunday Ticket" and "Red Zone Channel" in an effort to enjoy a sensory overload of smash mouth football each and every Sunday.
So how come you have no say in the matter?
Simple. Because the league and the union KNOW you'll be back. It's the same reason why these two sides waited until the last minute to start seriously talking (leading to a request for an extension) rather than jump the gun and resolve the various issues before panic began to set in amongst the masses.
There's a reason why the 1994-1995 MLB strike and the 2004-2005 NHL lockout are rarely mentioned in comparison to what is currently taking place in our nation's capital. It's because everyone knows that the NFL has such a ridiculously tight grip on its audience that any form of a work stoppage won't be enough to keep the fans away once professional football decides to return to business.
Which is why the time has come for the fans to rise up and let their voices be heard.
The majority of you are already in unison as to your position on the CBA negotiations. You don't side with the players and you don't side with the owners. You side with football and you don't care how or why a deal gets done as long as it does, in fact, get done.
So what would happen if that aforementioned majority decided not to renew their season tickets for the 2011 season, boycotted purchasing NFL merchandise and told DIRECTV to go pound sand when it came time to renew "Sunday Ticket" packages?
I'll tell you what would happen. The league and the union would begin to sweat, and that sweat would lead to a serious increase in pressure to get a deal done as fast as possible.
Because at the end of the day, it's better to have 55% of $9 billion than it is 100% of nothing.
And the only people who can make that point crystal clear to the parties in Washington D.C. are the fans.
Hit me up on Twitter: @JoeFortenbaugh