July 27, 2011 -
Barry Dorey
Jacoby Jones will stay in Houston
A career-high 51 receptions in 2010 has led the Houston Texans to re-sign wide receiver Jacoby Jones.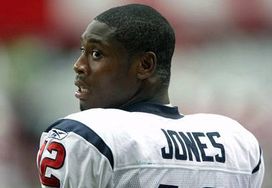 Jones recorded a career-high 562 receiving yards last season.
John McClain of the Houston Chronicle was the first to break the news that Jones will sign a three-year deal worth $10.5 million with $3.5 million guaranteed. McClain also reports that the Texans reached a two-year deal with offensive tackle Rashad Butler worth $3.8 million.
The 27-year-old Jones has started only 11 games at wide receiver over the last four years, but he's contributed solid numbers returning kicks and punts.
The move helps to keep the NFL's fourth-ranked passing offense from 2010 intact.
Is this the year the Texans go to the playoffs? Let us know in the NFP Forums!
Hit me up on Twitter: @JoeFortenbaugh