March 01, 2013 -
Joe Fortenbaugh
Jairus Byrd gets hit with the franchise tag
The Buffalo Bills have ranked 26th or worse in scoring defense in each of the last three seasons, but that doesn't mean this unit is without quality defenders (It just means, in part, that the franchise doesn't have enough of them).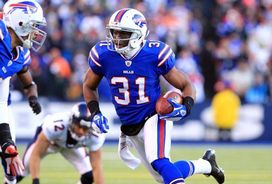 Byrd led the AFC in interceptions in 2012, with 5.
One of the few defensive bright spots since joining the Bills in 2009 via a second-round pick out of Oregon, two-time Pro Bowl free safety Jairus Byrd would have had the opportunity to score a monster payday on March 12 if he was allowed to test the open market.
The Bills put an end to any and all speculation regarding that matter on Friday. Per Adam Schefter of ESPN, Buffalo will place the franchise tag on Byrd at a cost of $6.9 million in base salary in 2013.
While the move ensures that Byrd won't be playing football for anybody else next season, it isn't necessarily the end of the road in terms of the 26-year-old's contract. There's a good chance that both sides will continue working on a long-term deal for the ball-hawking safety who led the AFC in interceptions in both 2009 and 2012.
With the Byrd situation under control at the moment, the Bills can now turn their attention to free agent offensive guard Andy Levitre, who graded out as the ninth-best offensive guard in football last season, per Pro Football Focus.
Hit me up on Twitter: @JoeFortenbaugh