July 29, 2011 -
Barry Dorey
James Harrison says he's sorry
After stirring up the hornet's nest earlier this month with some incendiary remarks, Steelers linebacker James Harrison has decided to apologize.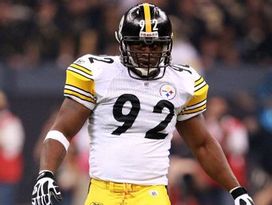 Harrison racked up over $100,000 in fines last season.
"The interview that I did and the comments that I made about Roger Goodell were inappropriate, at the least," Harrison said. "They were way out of line, and I was speaking out of anger and frustration at the time. Any comments that I made that offended anyone, I apologize."
For those of you who may have forgotten, Harrison called Commissioner Goodell a "puppet" and a "crook" in a Men's Journal interview that featured a picture of the Pro Bowl defender holding two guns while shirtless.
In the same interview, Harrison took shots at both quarterback Ben Roethlisberger and running back Rashard Mendenhall, but that matter appears to have been handled behind closed doors as Harrison stated, "That's all behind us."
"Those comments [toward teammates] were taken out of context with a long conversation. It's not anything I haven't talked to those guys about or my teammates about."
Hit me up on Twitter: @JoeFortenbaugh