August 10, 2011 -
Barry Dorey
Jermichael Finley isn't worried about the Eagles or the Saints
If the hunt for the NFC title really comes down to three teams like many are predicting, the race is already off to a great start.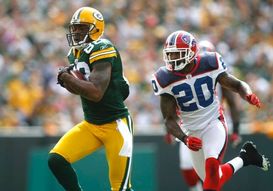 ICONWill a healthy Finley make the Green Bay offense even more lethal in 2011?
Less than two weeks after the Philadelphia Eagles and New Orleans Saints began arming themselves to the teeth with talent on both sides of the ball, Packers tight end Jermichael Finley wanted to make it clear that he isn't sweating the hype.
Speaking to WSSP in Milwaukee about the excitement surrounding the Eagles and Saints this preseason, Finley had some bold statements for the two teams many think could knock the Pack off their perch.
"I ain't worrying about all that. All that talk with the Eagles and Saints, that will come to a halt, I guarantee you."
Finley also had a more direct message for the man responsible for coining the 'Dream Team' moniker being used in Philadelphia at the moment.
"Ah man, that's just talk," Finley stated. "That's on paper. VY is a backup, I don't think he should be doing too much talking."
As of the current moment, the Packers are tied with the Eagles at +275 to win the NFC, while the Saints are listed at +600.
Hit me up on Twitter: @JoeFortenbaugh