March 09, 2012 -
Joe Fortenbaugh
Jets give Sanchez a three-year extension
Mark Sanchez should send Peyton Manning a thank you card.
Just over 48 hours after the New York Jets showed an interest in the most-coveted free agent quarterback prospect of all time, the team changed directions faster than a hummingbird and decided to give their current starting quarterback a contract extension.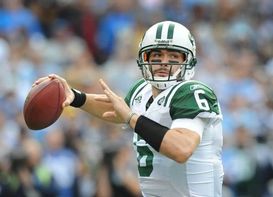 ICONSanchez is now locked-up through 2016.
Per Rich Cimini of ESPN New York, the Jets and current starting signal-caller Mark Sanchez have agreed to a three-year contract extension that will keep the former USC Trojan in town through 2016.
Terms of the deal were not immediately made available.
After back-to-back trips to the AFC Championship game to begin his career in New York, Sanchez and the Jets took a step in the wrong direction last season, with the team finishing just 8-8 and Sanchez once again failing to complete more than 57% of his passes.
The extension may give Sanchez more job security, but it's not going to buy him any more time with Jets fans. Entering his fourth NFL season, it's time for the former top-five draft pick to take this organization to the next level.
Or else next year at this time, the Jets may find themselves looking to pull off a blockbuster trade similar to the one the Redskins pulled off Friday night.
Hit me up on Twitter: @JoeFortenbaugh