July 27, 2011 -
Barry Dorey
Jets interested in Randy Moss? Why not
Apologies to all, but I'm still shaking my head over that DeAngelo Williams contract. $21 million guaranteed? So if I have this right, between Charles Johnson on Tuesday and Williams on Wednesday, the Panthers have spent $53 million in guaranteed money on two players who were a part of last year's 2-14 season.
Interesting blueprint the boys in Carolina are working with.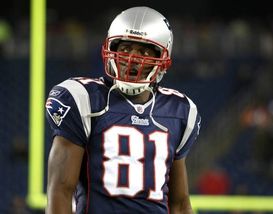 ICONIs Moss playing for money or because he has something left to prove?
In any event, we come back to reality to inform you that according to Jason La Canfora of the NFL Network, the Jets may not be able to shell out the cash necessary to re-sign Braylon Edwards and therefore are considering Randy Moss.
That's right. The Randy Moss who played for three different teams last season, yet caught only 28 passes. It's the same Moss who turned 34-years-old this past February.
Granted, head coach Rex Ryan has done wonders in the past with players who, shall we say, have some attitude issues (see: Antonio Cromartie), but the big question here is whether or not Moss has anything left in the tank.
We wonder how much it will cost to find out.
Would signing Randy Moss be a good move for the Jets? Discuss it in the NFP Forums!
Hit me up on Twitter: @JoeFortenbaugh