July 28, 2011 -
Barry Dorey
Jon Beason just landed a $50 million contract
If "make it rain" accurately describes the act of throwing hundred-dollar bills in the air at the club, the Carolina Panthers are making it thundersnow all over the NFL.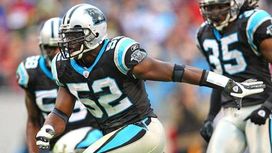 The Pro Bowl linebacker from Miami just landed a monster contract extension.
After a 72-hour span of handing out monstrous contracts to core players, the Panthers put an exclamation point on day three of free agency by locking up Pro Bowl inside linebacker Jon Beason to a five-year, $50 million extension worth $25 million guaranteed, per Mike Florio of ProFootballTalk.com.
The deal makes Beason the highest paid inside linebacker in league history.
A three-time Pro Bowl selection, the 26-year-old from the University of Miami has started every one of the 64 games the Panthers have played since they drafted him back in 2007. During that span, Beason has racked up 538 tackles and eight interceptions.
Despite winning just two games last season, it's gotta feel good to be one of the Panthers that has cashed in this week.
Hit me up on Twitter: @JoeFortenbaugh