February 12, 2013 -
Joe Fortenbaugh
Kate Upton lands the cover of this year's SI Swimsuit Issue (photo)
Board certified physicians will likely disagree with my rudimentary medical assessment, but I know the exact minute puberty commenced in my scrawny, pasty little body. It wasn't a slight crack of the voice that tipped me off, although oddly enough, I had an issue with that until I reached college. It wasn't a sudden growth spurt, either.
For me, puberty began in 1992 on a cold winter day in eastern Pennsylvania. I remember the moment very clearly. It was the first time I came into contact with those mesmerizing emerald eyes that were staring back at me from something called the Sports Illustrated Swimsuit Issue.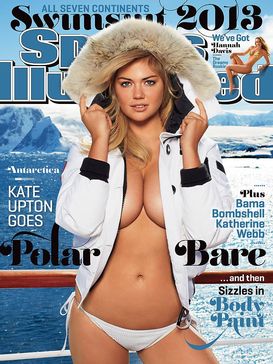 It was the day I was introduced to Kathy Ireland. The babe of all babes for a fifth-grader who does not yet know what a babe even is. You all remember the cover and if you grew up at the same time I did, you know exactly what I'm talking about.
"She Reigns In Spain," the cover declared.
"Yes, she does," I remember thinking, right before asking my teacher what "reigns" meant.
A lot has changed since that day. I'm taller now, for example, which is what they say puberty does to a human being. I'm also wider, which is what they say happens during and after college. That part I'm not so fond of. But we take this momentary trip down memory lane today because a new breed of elementary school boys will soon be introduced to the Swimsuit Issue, just like I was back in 1992. And instead of Kathy Ireland gazing back, it will be a blonde bombshell by the name of Kate Upton.
I just hope that "Call of Duty: Black Ops 2" has not yet fried their brains and destroyed their imagination.
Hit me up on Twitter: @JoeFortenbaugh