March 25, 2013 -
Joe Fortenbaugh
Keep the Ravens at home on Thursday night
For the first time in a decade, the defending Super Bowl champion will not commence the following season with a Week 1 home game. Joe Flacco and the Baltimore Ravens will hit the road on Thursday, September 5 to kickoff the 2013 NFL season because the Baltimore Orioles are scheduled to play the Chicago White Sox at 7:05pm eastern at Camden Yards the same night.
The problem facing the city of Baltimore is a common one: The Ravens and Orioles play at adjacent stadiums and share a parking lot. Football and baseball games taking place at the same time would cause a traffic problem.
The phrase "logistical nightmare" has been often used to describe the trouble with having both the Ravens and Orioles in action at the same time. Keep in mind that we aren't talking about Comrade Khrushchev attempting to place Soviet nuclear missiles in Cuba or NASA trying to put a human being on Mars. We're talking about a football team and a baseball team that perform in close proximity to one another playing home games at the same time.
Oh, the horror.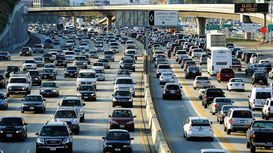 A preview of September 5 in Baltimore? Nope, that's Los Angeles rush hour, which the people of L.A. deal with every day.
Have you ever been to a sporting event and not heard the phrase "Let's beat the traffic" uttered at least once? Maybe you have, but that doesn't mean at least one person in attendance hasn't said it. Having 60,000 people depart the same area at the same time is always going to create a traffic problem. It's unavoidable. Play two professional sporting events at the same time and that problem increases in magnitude. But that doesn't mean we have to turn this predicament into a national crisis.
Since this issue found its way to center stage we've had no shortage of suggestions for how best to rectify the problem. Move the NFL's kickoff game to Wednesday, some have said. Sorry, that happens to be the Jewish holiday of Rosh Hashanah. Tell Baltimore's baseball club to move their 7:05pm start time to the afternoon, others have suggested. That's not fair to the Sox and Orioles because both teams play road night games (Orioles at Yankees, White Sox at Indians) on September 4. How about moving the Ravens' Week 1 home opener from Thursday to Sunday or Monday? Scratch that one off the books because the Orioles have home games on those days as well.
How about this for a suggestion: Have the Ravens play at home on Thursday night, September 5.
Ludicrous, you say? Think about it: This logistical logjam is making headlines more than five months before both games are scheduled to be played. It's not like any citizen of the fine city of Baltimore is going to be caught off guard by the excessive traffic. People who want to attend either game will find a way to make it happen. Carpool, arrive earlier than usual, park farther away and walk over. All are reasonable approaches to dealing with this issue.
Worried you might get home too late and miss out on a good night of rest before work on Friday? Then why do you want to attend a Thursday night sporting event to begin with?
Attendance could be negatively impacted by the traffic problem, you scoff? The Ravens are a lock for a sell out. No chance there's an empty seat in the house when the organization raises their championship banner. As for the Orioles, Baltimore's baseball team ranked 20th out of 30 in attendance last season despite winning 93 games and qualifying for the postseason. I don't think an NFL game at the same time is going to significantly impact the club's bottom line one way or another.
I get that the National Football League and Major League Baseball want to make their respective products as fan friendly as possible. That's a good business strategy. But the Ravens earned the right to host the NFL's Thursday night kickoff extravaganza when they defeated the San Francisco 49ers in February's Super Bowl. They shouldn't need to play on the road in Week 1.
Most of us deal with some level of traffic every day during the workweek. All of us deal with traffic when exiting any professional sporting event. Let the Orioles and Ravens play at the same time on Thursday, September 5, deal with the traffic problem that you've had five months to prepare for and move on. In the grand scheme of things, this isn't that big of a problem.
Hit me up on Twitter: @JoeFortenbaugh