August 13, 2010 -
Joe Fortenbaugh
Kolb looks solid in preseason opener
PHILADELPHIA, Pa.—The Kevin Kolb era got off to a smooth start in Philadelphia Friday night against a Jacksonville defense that spent close to 12 minutes on the field during the first quarter.
The Eagles and their new quarterback wasted no time opening up the passing game at Lincoln Financial Field as Kolb hit Pro Bowl wide receiver DeSean Jackson on a quick inside slant for a 21-yard gain on the first play from scrimmage.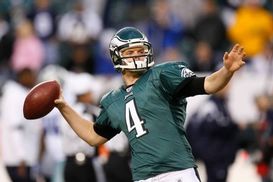 ICONKolb looked smooth and efficient running the show Friday night.
Kolb took a total of 25 snaps and completed six of eleven passes (54.5%) for 95 yards with no touchdowns and no interceptions. He also broke out of the pocket and picked up 15 rushing yards on two scrambles—one of which led to a first down that kept an early Philadelphia scoring drive alive.
The fourth-year veteran out of Houston looked poised and demonstrated excellent footwork in the pocket during the first quarter Friday night, often stepping up when he felt pressure closing in from the outside. Kolb took no sacks during his only quarter of action and was able to connect with four different receivers despite throwing just 11 total passes.
Here's the statistical breakdown:
DeSean Jackson: 2 targets, 2 receptions, 47 yards
Jeremy Maclin: 3 targets, 2 receptions, 32 yards
Brent Celek: 4 targets, 1 reception, 12 yards
Jason Avant: 2 targets, 1 reception, 4 yards
Unfortunately for Philadelphia, the Eagles offense stalled-out both times they reached the red zone. Veteran kicker David Akers had to finish the job the offense started and he delivered, connecting on attempts from 29 and 32 yards to give the Eagles a 6-0 lead at the conclusion of the first quarter.
While the new franchise quarterback in Philadelphia made a few mistakes by trying to force a couple of passes into double coverage, all in all it was a fairly impressive performance from the 25-year old.
I honestly wish I could tell you more about the Jaguars, but they only had the ball for 3:18 in the first quarter and went three-and-out on both of their drives.
Hit me up on Twitter: @JoeFortenbaugh