July 28, 2011 -
Barry Dorey
Kolb returns to Philly in Week 10
Seems like the Philadelphia Eagles find themselves in this situation every year.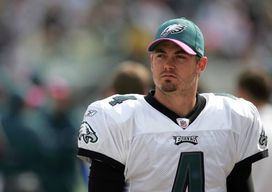 ICONWill the boo birds be out in Philly in Week 10?
A little over one year after former Philly quarterback Donovan McNabb made his return to Lincoln Financial Field with the Washington Redskins, the newest former Eagle quarterback will return to Broad Street hoping to achieve similar results.

Rest your voices, Eagles fans, because Kevin Kolb will be at the Linc with his new squad on Sunday, November 13 at 1:00pm eastern.

McNabb was able to escape his return with a 17-12 upset win.

Will Kolb do the same?
<p>
h/t to my man @EagleJeff91 for pointing this out.
Hit me up on Twitter:
@
JoeFortenbaugh