August 05, 2011 -
Joe Fortenbaugh
LaMarr Woodley gets paid
LaMarr Woodley has been an absolute beast for the Pittsburgh Steelers since the team drafted him back in 2007. He's started 47 of the last 48 games and has posted double-digit sack totals in each of the last three seasons.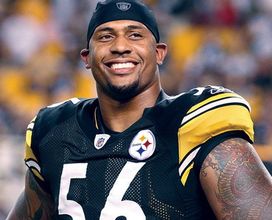 LaMarr Woodley should be smiling. The man just cashed in his chips for a $61.5 million contract.
On Thursday, the Steelers showed their appreciation.
In a move that helped lock up their Pro Bowl linebacker and put them under the new salary cap limit (Woodley was Pittsburgh's 2011 franchise player), the Steelers signed the 26-year-old former Wolverine to a monstrous six-year, $61.5 million deal, per Mike Florio of ProFootballTalk.com.
Woodley announced the signing on Twitter, telling his followers that he'll be a Steeler "4 LIFE."
Somewhere in Maryland, Ravens quarterback Joe Flacco just did the math and realized he'll see Woodley 12 more times during the regular season.
Let the trash talk begin.
Hit me up on Twitter: @JoeFortenbaugh