July 27, 2011 -
Barry Dorey
Lance Moore marching back to New Orleans
According to Lance Moore, Lance Moore will be back with the Saints in 2011.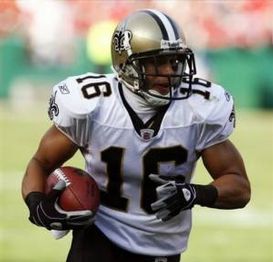 Lance Moore is coming back.
That's right. The five-year veteran broke the news himself via twitter Wednesday afternoon. Per Moore, "Welp, its been real new orleans........But let's make the next five years even more real. I'm coming back baby!!! #whodat"
So it appears that according to the tweet, Moore and the Saints have reached an agreement on a five-year contract.
The 27-year-old has hauled in 20 touchdown passes in his last 39 games and has been one of quarterback Drew Brees' favorite targets over the past three years.
Will the Saints reclaim the NFC North title in 2011? Discuss it now in the NFP Forums!
Hit me up on Twitter: @JoeFortenbaugh