December 17, 2014 -
Joe Fortenbaugh
Las Vegas market report
The month of December means, among other things, the start of bowl season, which any decent analyst will tell you requires a thorough examination of which teams possess the key ingredient known as motivation. Every year we're presented with a handful of matchups that pit teams overly excited for postseason play against schools that couldn't care less about the hand they've been dealt.
With just two weeks remaining in the regular season, the same can be said about professional football, as there are numerous teams who have packed it in for 2014 and are already looking ahead to vacations in the Caribbean. Did you watch the Saints-Bears game on Monday night? Because that serves as a perfect example of a team with motivation fighting for a playoff spot (New Orleans) taking on a club that has already thrown in the towel on the season.
2014 SNAPSHOT
Home teams: 108-110-6 (.495)
Favorites: 107-111-6 (.490)
Home favorites: 73-76-4 (.489)
Home dogs: 35-34-2 (.507)
Overs: 107-116 (.479)
Detroit Lions (10-4, 3-3 road) at Chicago Bears (5-9, 2-5 home)
When: Sunday, 1:00pm ET
Open: Detroit -4.5
Current: Detroit -6.5
Detroit in 2014: 7-7 ATS
Chicago in 2014: 5-9 ATS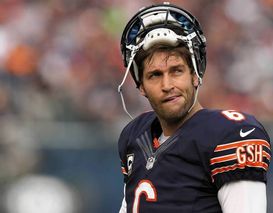 Cutler and the Bears are already looking ahead to a postseason spent on the beach.
Analysis: This line skyrocketed from Detroit -4.5 on Sunday evening to Detroit -6.5 late Monday night thanks to another lifeless effort from manbaby Jay Cutler and the Chicago Bears. Losers of six of their last eight outings with only three point spread covers over their last 11 games, the Bears have officially packed it in for the 2014 campaign thanks to a locker room rift started by offensive coordinator Aaron Kromer that will contribute to the pending dismissal of head coach Marc Trestman. Meanwhile, the Lions seized control of the NFC North last Sunday with a win over Minnesota coupled with a Green Bay loss at Buffalo, so the motivation is there to keep the pedal to the metal. Detroit is cooking with gas right now (7-2 SU over last nine games) and is set up beautifully in Week 16 for a showdown with a Chicago team that is just 7-18-1 ATS over its last 26 home contests. This is a classic case of a highly motivated football team squaring off against a club that is already in the process of booking its postseason vacations.
Notable trends: Detroit is 8-3 ATS over its last 11 games against NFC North opposition while Chicago is 3-13 ATS over its last 16 games against NFC North opposition.
Baltimore Ravens (9-5, 4-3 road) at Houston Texans (7-7, 3-3 home)
When: Sunday, 1:00pm ET
Open: Baltimore -3.5
Current: Baltimore -5.5
Baltimore in 2014: 7-6-1 ATS
Houston in 2014: 8-5-1 ATS
Analysis: Houston's top three quarterback options (Ryan Mallett, Ryan Fitzpatrick, Tom Savage) are unavailable for Week 16 due to injury, which leaves the Texans with either Case Keenum or Thad Lewis to take the wheel against a Baltimore defense that is surrendering an average of just 19.1 points per game this season (sixth-best in NFL). In addition, Houston's loss at Indianapolis last Sunday gave the Colts the AFC South crown, so one has to question how much motivation the Texans will have for a showdown with a Ravens team that is currently postseason bound, but looking to improve its position via a divisional championship. One interesting angle for this matchup involves former Texans head coach Gary Kubiak, who currently runs the Baltimore offense, but is very familiar with Houston's personnel. Don't be surprised if the Ravens stack eight in the box on defense in an effort to shut down Pro Bowl running back Arian Foster while simultaneously daring either Keenum or Lewis to beat them through the air.
Notable trends: The favorite is 4-1 ATS over the last five matchups between these two teams.
Indianapolis Colts (10-4, 4-2 road) at Dallas Cowboys (10-4, 3-4 home)
When: Sunday, 4:25pm ET
Open: Dallas -1
Current: Dallas -3
Indianapolis in 2014: 9-4-1 ATS
Dallas in 2014: 8-6 ATS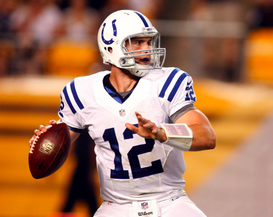 Luck will operate with a banged-up receiving unit on Sunday.
Analysis: Wide receivers Reggie Wayne (triceps) and T.Y. Hilton (hamstring) are banged up and the Indianapolis defense is surrendering an average of 29.2 points per game on the road in 2014. Those are big concerns when you consider the fact that the Cowboys have successfully rebounded from their Thanksgiving Day loss to Philadelphia with back-to-back wins that came by scoring an average of 39.5 points per game. Dallas is clicking at the moment but doesn't have time to stop and smell the roses because the Eagles are still nipping at their heels. However, the Colts just wrapped up the AFC South title with last Sunday's win over Houston, so one has to question whether or not the team will get up for a Week 16 matchup with a non-conference opponent. Either way, note that Indy is 8-3-1 ATS over its last 12 games overall while Dallas is 1-4 ATS over its last five home contests.
Notable trends: Indianapolis is 0-3-1 ATS over its last four games against teams with a winning record while Dallas is 1-4 ATS over its last five games after scoring more than 30 points in the previous contest.
Philadelphia Eagles (9-5, 3-3 road) at Washington Redskins (3-11, 2-4 home)
When: Saturday, 4:30pm ET
Open: Philadelphia -8.5
Current: Philadelphia -7.5
Philadelphia in 2014: 8-6 ATS
Washington in 2014: 4-10 ATS
Analysis: Chip Kelly is a perfect 3-0 (2-1 ATS) against the Redskins with an offense that has averaged 31.3 points per game against the team from our nation's capital. But curiously enough, this line is moving against a Philadelphia club that is currently on the outside of the playoff picture thanks to last Sunday's home loss to Dallas. We know the Eagles have plenty of motivation to get up and play big in Week 16, but what about this dysfunctional Redskins team that has dropped six straight by an average of 14.0 points per game, is rumored to be looking for yet another head coach and is 1-8 ATS over its last nine games following a loss? Be advised that the Eagles are 4-1 ATS in their last five trips to Washington.
Notable trends: The road team is 11-4-1 ATS over the last 16 meetings between these two teams.
Green Bay Packers (10-4, 3-4 road) at Tampa Bay Buccaneers (2-12, 0-6 home)
When: Sunday, 1:00pm ET
Open: Green Bay -10
Current: Green Bay -10.5
Green Bay in 2014: 7-6-1 ATS
Tampa Bay in 2014: 6-8 ATS
Analysis: The first-glance analysis of this matchup would be to note that Tampa Bay is 0-6 at home this season and losing by an average of 9.3 points per game, while the Packers just let the NFC North lead slip through their fingertips thanks to an upset loss at Buffalo last Sunday. So one would think that Aaron Rodgers and company would stomp all over the Buccaneers defense with renewed vigor after laying an egg in Week 15, right? Well, it's worth noting that Green Bay has had some trouble with this franchise in the past (3-9 ATS in last 12 vs. Tampa) and of Tampa Bay's last nine losses, six have come by eight or fewer points. However, most of that last sentence loses its luster when you note that the Packers are 12-5 ATS over their last 17 road games while the Buccaneers are 15-35-1 over their last 51 home contests.
Notable trends: Green Bay is 3-9 ATS over its last 12 meetings with Tampa Bay.
Seattle Seahawks (10-4, 4-3 road) at Arizona Cardinals (11-3, 7-0 home)
When: Sunday, 8:30pm ET
Open: Seattle -7.5
Current: Seattle -8
Seattle in 2014: 7-6-1 ATS
Arizona in 2014: 10-4 ATS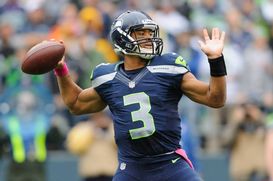 Wilson and the Seahawks are averaging just 19.8 points per game over their last five outings.
Analysis: Wait a minute, you're telling me an 11-win team with the revenge angle is catching eight points at home in a game lined with a total of just 36 points? Well, that's what happens when both Carson Palmer and Drew Stanton are lost to injury, forcing Cardinals coach Bruce Arians to opt for a backup in Ryan Lindley who has started a grand total of just four games during his two-year career. Things are so bad at the QB position in Arizona right now that some knuckleheads are tying to make the case for 43-year-old Kurt Warner to come out of retirement. The thought process behind this line move is that a team with the league's top-ranked defense that has won seven of its last eight matchups should have no problems handling a third-string quarterback. Just remember that Seattle is only averaging 19.8 points per game over its last five outings, which could make covering an 8-point line a tall order if Lindley finds a way to avoid turning the ball over.
Notable trends: Seattle is 2-6 ATS over its last eight trips to Arizona.
THE REST OF THE RUNDOWN
New York Giants at St. Louis Rams: From STL -5.5 to STL -5
Tennessee Titans at Jacksonville Jaguars: From JAC -3 to JAC -3
San Diego Chargers at San Francisco 49ers: From SF -2.5 to SF -2.5
Minnesota Vikings at Miami Dolphins: From MIA -6.5 to MIA -6.5
Atlanta Falcons at New Orleans Saints: From NO -6.5 to NO -6.5
New England Patriots at New York Jets: From NE -10 to NE -10
Kansas City Chiefs at Pittsburgh Steelers: From PIT -3 to PIT -3
Cleveland Browns at Carolina Panthers: NO LINE (Newton injury)
Buffalo Bills at Oakland Raiders: From BUF -5.5 to BUF -5.5
Denver Broncos at Cincinnati Bengals: From DEN -3.5 to DEN -3.5
Hit me up on Twitter: @JoeFortenbaugh