October 17, 2014 -
Joe Fortenbaugh
Las Vegas market report: NFL Week 7
Of the 14 games yet to be played in Week 7 of the 2014 season, four have experienced a point spread adjustment of 1-point or greater since hitting the board Sunday evening at the Westgate Las Vegas SuperBook. However, if you go back to last week and factor in the look-ahead lines for Week 7, you'll notice that a total of six games have been adjusted by 1-point or greater.
It's no secret that betting lines move based on the amount of money wagered. But there's more information to be gained by analyzing these line movements within the context of how much they are adjusted from when they first hit the market more than one week before kickoff. These early point spreads are called "look-ahead" lines and their adjustment from the week prior to the following Sunday evening (seven days before the game in question is to be played) tell a much grander story than the movements we track during the week leading up to the game.
For example, take a look at the Atlanta-Baltimore game below. Last week's look-ahead line hit the market with the Ravens listed as a 5-point favorite. But after Baltimore waxed the Buccaneers and the Falcons fell on their collective faces against the Bears in Week 6, this line reemerged Sunday evening with John Harbaugh's crew listed as a 6.5-point favorite.
It wasn't an influx of money that forced the adjustment from Baltimore -5 to Baltimore -6.5 so much as the events that transpired on the field last Sunday. These adjustments are worth noting because they provide a glimpse into what the bookmakers are thinking while sometimes offering a more valuable wagering opportunity based on what could have been an out-of-character performance.
THROUGH 6 WEEKS
Home teams: 41-48-3 ATS
Favorites: 45-44-3 ATS
Home dogs: 10-14-2 ATS
Overs: 51-41
New York Giants (3-3, 1-2 road) at Dallas Cowboys (5-1, 2-1 home)
When: Sunday, 4:25pm ET
Look-ahead line: Dallas -3.5
Week 7 open: Dallas -4
Current: Dallas -6.5
Notable trends: The Giants are 4-1 ATS over their last five road games at Dallas.
Analysis: It's not as if people were ignoring the Cowboys' 4-1 record entering last Sunday's showdown against the defending champion Seahawks, but it took a marquee 30-23 victory over a Seattle team that had gone 17-1 at CenturyLink Field since 2012 to get the entire country to stand up and take notice. That win elevated the Cowboys from "pretender" to "contender" as the Westgate Las Vegas SuperBook adjusted Dallas from 20/1 to win February's Super Bowl to 12/1 in the wake of such an impressive upset.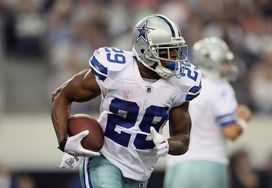 Murray and the Cowboys are riding high following Sunday's monster win in Seattle.
Week 6 was not as kind to Eli Manning and the New York Giants, who were annihilated 27-0 at Philadelphia in a game that saw wide receiver Victor Cruz go down with a season-ending knee injury. Now, New York is being asked to play their second consecutive divisional road game against one of the hottest franchises in the business.
The Week 6 results coupled with the Cruz injury are the driving forces behind this three-point line adjustment, but note that if this number gets as high as Dallas -7, you're likely to see New York money make its way to the counter. It's the classic contrarian approach in which sharper bettors fade a public that is putting too much emphasis on the previous week's results. Be advised that the Cowboys are 2-5 ATS over their last seven home games while the Giants are 5-2 ATS over their last seven contests following a loss.
Kansas City Chiefs (2-3, 1-2 road) at San Diego Chargers (5-1, 3-0 home)
When: Sunday, 4:05pm ET
Look-ahead line: San Diego -5
Week 7 open: San Diego -5.5
Current: San Diego -4
Notable trends: The Chiefs are 9-3 ATS over their last 12 road games.
Analysis: Plain and simple, this line move is all about the situation. Winners of five straight, the Chargers have played six consecutive weeks in a row entering Sunday and are currently just five days removed from a grueling 31-28 victory at division rival Oakland. The Chiefs, however, are well rested following a week off. The key here is Kansas City head coach Andy Reid, who is a career 13-2 coming off a bye. That's a very popular statistic that you'll be hearing more about in the build-up to this showdown. For totals bettors, take note that the OVER is 4-0 in the last four meetings between these two teams.
Atlanta Falcons (2-4, 0-3 road) at Baltimore Ravens (4-2, 2-1 home)
When: Sunday, 1:00pm ET
Look-ahead line: Baltimore -5
Week 7 open: Baltimore -6.5
Current: Baltimore -7 (even)
Notable trends: The Falcons are 1-4 ATS over their last five games.
Analysis: Since John Harbaugh took over as the head coach in Baltimore, the Ravens are 41-10 straight-up and 28-22-1 against the spread when playing at home during the regular season. On the other sideline resides an Atlanta Falcons team that has lost 15 of its last 20 games and is 3-8 ATS over its last 11 road contests. The Falcons have been absolutely horrendous away from the Georgia Dome this season, going 0-3 both SU and ATS while committing six turnovers and surrendering 31.6 points and 372.3 total yards per game. Look for Baltimore to be one of the most popular six-point teaser plays in Week 7.
Minnesota Vikings (2-4, 1-2 road) at Buffalo Bills (3-3, 1-2 home)
When: Saturday, 1:00pm ET
Look-ahead line: Buffalo -3.5
Week 7 open: Buffalo -4
Current: Buffalo -5.5
Notable trends: The Vikings are 1-4 ATS over their last five games.
Analysis: Attribute the two-point move in this line to Minnesota rookie quarterback Teddy Bridgewater, who looked solid against a lousy Atlanta defense in Week 4, but very much the inexperienced professional signal-caller in last Sunday's 17-3 loss to Detroit (23/37, 188 yards, 0 TDs, 3 INTs, 8 sacks). Now, Bridgewater and his anemic Vikings offense (28th in both total offense and scoring) travel to Buffalo for a non-conference showdown against a tough Bills defense that is going to make life very difficult for the young quarterback. However, the question here is whether or not 5.5 points is too much to lay with a Buffalo franchise that has posted just one winning season since 2000. Take note that although the Bills are 10-4 ATS over their last 14 contests when coming off a loss, Buffalo hasn't been favored by this many points in a game since Week 13 of the 2012 season.
Cleveland Browns (3-2, 1-1 road) at Jacksonville Jaguars (0-6, 0-2 home)
When: Sunday, 1:00pm ET
Look-ahead line: Cleveland -4
Week 7 open: Cleveland -4
Current: Cleveland -5.5
Notable trends: The Jaguars are 7-19-1 ATS over their last 27 games.
Analysis: The Brian Hoyer-led Cleveland Browns are now 3-2 on the season with those two defeats (at Pittsburgh, vs. Baltimore) coming by a combined five points. This is a competitive football team that is currently 16-4-1 ATS over its l ast 21 road games against teams with a losing home record. Enter the Jaguars, who are the NFL's Mona Lisa when it comes to not covering the point spread. Jacksonville is 1-5 ATS so far this season and just 7-18-1 ATS when playing at home since 2011. This is just as much a play against Jacksonville as it is a play on Cleveland, but note that the Browns have not laid this many points on the road since the last millennium.
THE REST OF THE RUNDOWN
Numbers in parenthesis indicate look-ahead line, Week 7 open, current
Indianapolis Colts (-2, -3, -3 -120) vs. Cincinnati Bengals
Washington Redskins (no line, no line, -5.5) vs. Tennessee Titans
Chicago Bears (-3 -120, -3 -120, -3 -120) vs. Miami Dolphins
Seattle Seahawks (-7, -6.5, -7 even) at St. Louis Rams
Green Bay Packers (-7, -7, -7) vs. Carolina Panthers
Detroit Lions (-1.5, -2.5, -2.5 -120) vs. New Orleans Saints
Arizona Cardinals (no line, -4, -3.5) at Oakland Raiders
Denver Broncos (-6, -7, -6.5) vs. San Francisco 49ers
Pittsburgh Steelers (-4, -3.5, -3.5 even) vs. Houston Texans
Hit me up on Twitter: @JoeFortenbaugh