October 24, 2014 -
Joe Fortenbaugh
Las Vegas market report: NFL Week 8
Five matchups featuring home underdogs highlight this weekend's slate of action, but be sure to note that unlike in years past, home dogs haven't been barking quite as loudly this season (12-15-2 through seven weeks).
We'll find out Sunday if that trend reverses course as we approach Halloween, but for now, let's take a look at some of the key line movements heading into the Sunday schedule.
AFTER 7 WEEKS
Home teams: 50-54-3 (.480)
Favorites: 53-51-3 (.509)
Home dogs: 12-15-2 (.444)
Overs: 58-49 (.542)
Baltimore Ravens (5-2, 2-1 road) at Cincinnati Bengals (3-2-1, 2-0-1 home)
When: Sunday, 1:00pm ET
Look-ahead line: Cincinnati -3.5
Week 8 open: Cincinnati -3
Current: Baltimore -1
Notable trends: The favorite is 5-1-1 ATS in the last seven meetings between these two teams.
Analysis: Two key factors have combined to move this spread a grand total of 4.5 points since the look-ahead line hit the board last week. First, Baltimore fell at home to Cincinnati 23-16 back in Week 1, so you've got the revenge angle in play here. In addition, Cincinnati has looked terrible over the last three weeks, surrendering an average of 35.6 points per game, which includes a 27-0 blanking in Indianapolis last Sunday afternoon. Andy Dalton and the Bengals offense are a much more anemic unit without the services of wide receiver A.J. Green (toe), so it's important to monitor the injury reports as we approach Sunday. Remember, while Cincy has been floundering over the last three weeks, Baltimore has very quietly won five of its last six outings with quarterback Joe Flacco currently on pace to post career-high marks in both passing yards and touchdowns.
Houston Texans (3-4, 1-3 road) at Tennessee Titans (2-5, 1-2 home)
When: Sunday, 1:00pm ET
Look-ahead line: Houston -1.5
Week 8 open: Houston -1
Current: Houston -3 (-120)
Notable trends: Houston is 4-1 ATS over its last five games at Tennessee.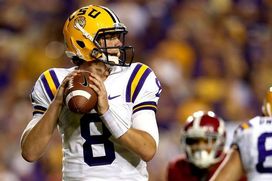 Mettenberger gets the nod for Tennessee on Sunday.
Analysis: Even with Houston riding a three-game losing streak and entering Sunday's divisional matchup at Tennessee on a short week following a 30-23 Monday night loss in Pittsburgh, the action has been ferocious and constant in support of Bill O'Brien's Texans. The main reason has to do with Thursday's announcement that immobile rookie sixth-round pick Zach Mettenberger will start at quarterback for the Titans in Week 8. Mettenberger may have the comfort of making his NFL debut at home, but against the relentless Houston pass rush featuring J.J. Watt and rookie first-round pick Jadeveon Clowney, the LSU product is going to have his hands full on Sunday. Note that the Titans are 1-8-2 ATS over their last 11 home games.
Miami Dolphins (3-3, 2-1 road) at Jacksonville Jaguars (1-6, 1-2 home)
When: Sunday, 1:00pm ET
Look-ahead line: Miami -4.5
Week 8 open: Miami -4.5
Current: Miami -6
Notable trends: The favorite is 4-1-1 ATS over the last six meetings between these two teams.
Analysis: Jacksonville may have notched its first win of the season last Sunday, but the betting community still has very little faith in a club that is now 7-15-1 ATS overall since 2013 and 4-14-1 ATS at home since 2012. Miami, on the other hand, is coming off an impressive 27-14 upset win at Chicago and had it not been for a late meltdown against the Green Bay Packers in Week 6, the Dolphins would be 4-2 on the season and garnering much more attention. The big question is whether or not Joe Philbin and Ryan Tannehill can find a way to sustain their recent success, as both men find themselves on the hot seat as we approach the month of November.
Chicago Bears (3-4, 3-1 road) at New England Patriots (5-2, 3-0 home)
When: Sunday, 1:00pm ET
Look-ahead line: New England -6.5
Week 8 open: New England -7
Current: New England -6
Notable trends: The Patriots are 1-4 ATS over their last five games following a win.
Analysis: The biggest red flag of the weekend features a dysfunctional Bears team that just lost 27-14 at home to the Miami Dolphins against a well-rested New England squad that has won three straight games since being humiliated at Kansas City back in Week 4. So why is this line moving toward Chicago? Well, the Bears are 6-1 ATS over their last seven outings when amassing less than 250 total yards in the previous game. In addition, this is a non-conference showdown for the Patriots, who could get caught looking ahead to next Sunday's AFC Championship rematch with Peyton Manning and the Denver Broncos. Also worth noting is this little tidbit: The Westgate Las Vegas SuperBook sends out the weekly point spreads for their SuperContest on Wednesday afternoon. Being the exceptionally sharp bookmakers that they are, the staff tries to anticipate where the lines will move by the time the weekend rolls around. In this instance, the Westgate sent out New England -5.5 in anticipation of Bears money. Take that for what it's worth.
Seattle Seahawks (3-3, 1-2 road) at Carolina Panthers (3-3-1, 2-1 home)
When: Sunday, 1:00pm ET
Look-ahead line: Seattle -3.5
Week 8 open: Seattle -3.5
Current: Seattle -5
Notable trends: Seattle is 12-4 ATS over its last 16 road games.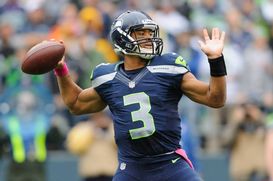 Wilson and the Seahawks have taken plenty of money in the build-up to Sunday's game at Carolina.
Analysis: Interesting line move considering the fact that Seattle just played a road divisional game in St. Louis and now has to travel all the way across the country for an early start time with a Carolina Panthers team that is 11-5-1 ATS over its last 17 games following an against the spread loss. This is either a setup by professional bettors who are firing big money on Seattle in an attempt to move the line only so they can come back later on to wager even more money on Carolina at a better price, or it's true belief that there is no way the defending champs will drop three consecutive matchups. Let's see what happens here on Sunday morning.
Buffalo Bills (4-3, 2-1 road) at New York Jets (1-6, 1-3 home)
When: Sunday, 1:00pm ET
Look-ahead line: PK
Week 8 open: NY Jets -3 (even)
Current: NY Jets -3
Notable trends: The home team is 4-0 ATS in the last four meetings between these two franchises.
Analysis: The Jets enter Week 8 on extra rest and with a new offensive weapon in wide receiver Percy Harvin, but the Bills are 2-1 on the road this season with victories over Chicago and Detroit. I find myself asking the following question every t ime I look at this point spread: Am I confident laying three points with a 1-6 Jets team quarterbacked by Geno Smith? The answer, of course, is a resounding "no." But it's also worth noting that Buffalo is 8-24-1 ATS over its last 33 games following a win.
Indianapolis Colts (5-2, 2-1 road) at Pittsburgh Steelers (4-3, 2-1 home)
When: Sunday, 4:25pm ET
Look-ahead line: Indianapolis -1
Week 8 open: Indianapolis -2.5
Current: Indianapolis -3 (-120)
Notable trends: Pittsburgh is 0-4-1 ATS over their last five contests when playing on a Sunday following a Monday night game.
Analysis: Short week for a Steelers team that has been consistently inconsistent this season facing off against one of the hottest teams in the league in the Indianapolis Colts, winners of five straight by an average of 18.0 points per game. The Colts are now 23-8 ATS over their last 31 showdowns with AFC opposition and have been turning a consistent profit for their backers, so it's easy to understand the move here. However, note that running back Trent Richardson (hamstring) will be a game-time decision while wide receiver Reggie Wayne (elbow) have already been ruled out.
Green Bay Packers (5-2, 2-2 road) at New Orleans Saints (2-4, 2-0 home)
When: Sunday, 8:30pm ET
Look-ahead line: PICK
Week 8 open: Green Bay -1.5
Current: New Orleans -1.5
Notable trends: New Orleans is 36-17 ATS over its last 53 home games.
Analysis: That trend above is the sole reason why the market is taking Saints money, but let me ask you a question: Of the six games New Orleans has played in 2014, can you name one instance in which the team has looked good? The Saints' two victories this season came by way of an overtime home shootout over lousy Tampa Bay and a 20-9 blah performance against a rookie quarterback in Teddy Bridgewater who was making his NFL debut. New Orleans' other four outings feature the team finding ways to lose games against Atlanta, Cleveland and Detroit, as well as getting blown out at Dallas back in Week 4. This is not the same Saints team we remember from years past and the red-hot Packers—winners of four straight by an average of 19.2 points per game—are going to demonstrate preciously that Sunday night in the Superdome.
THE REST OF THE RUNDOWN
Numbers in parenthesis indicate look-ahead line, Week 8 open and current
Detroit Lions (-3.5, -4, -3.5) vs. Atlanta Falcons (in London)
Kansas City Chiefs (-6, -6, -7) vs. St. Louis Rams
Tampa Bay Buccaneers (PK, -2, -2.5) vs. Minnesota Vikings
Arizona Cardinals (-2.5, -2.5, -2.5) vs. Philadelphia Eagles
Cleveland Browns (-7, -7, -6.5) vs. Oakland Raiders
Dallas Cowboys (-8, -8, -9.5) vs. Washington Redskins
Hit me up on Twitter: @JoeFortenbaugh