June 27, 2013 -
Joe Fortenbaugh
Las Vegas: The Aaron Hernandez effect
While not as integral a component in the New England offense as quarterback Tom Brady, former Patriots tight end Aaron Hernandez did play a relatively significant role within the team's primary scoring unit when healthy.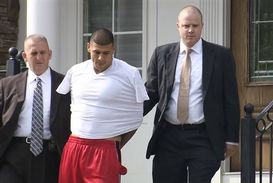 Hernandez found the end zone 18 times in 38 games during his three seasons in New England, with a career-high stat line (79-910-7) coming in 2011. During that breakout campaign of two years ago, the former Florida Gator accounted for 18.49% of Brady's targets, 19.7% of his completions and 17.9% of the quarterback's touchdown passes, despite appearing in just 14 games.
But the 23-year-old was released Wednesday on the heels of his arrest for first-degree murder in connection with the death of Odin Lloyd. The Patriots weren't the only organization quick to react to the news, as Las Vegas bookmakers made several adjustments to their New England betting options following Hernandez's release.
Here's the rundown of the key adjustments that took place at the LVH SuperBook on Wednesday, courtesy of Jeff Sherman.
SUPER BOWL ODDS
Prior to release: 5/1
After release: 6/1
AFC CONFERENCE ODDS
Prior to release: 2/1
After release: 12/5
DIVISIONAL ODDS
Prior to release: 1/6
After release: 2/9
SEASON WIN TOTAL
Prior to release: 11.5 (under: -155)
After release: 11.5 (under: -170)
LINE CHANGES
Week 1: Patriots (-7) at Bills (was Patriots -7.5)
<strong>Week 2: Patriots (-10) at Jets (was Patriots -12)
Hit me up on Twitter: @JoeFortenbaugh