February 09, 2012 -
Joe Fortenbaugh
Let's play the guessing game
So it turns out Super Bowl MVP Eli Manning has an older brother named Peyton. And according to a Google search I performed early Thursday morning, this guy Peyton is apparently a pretty good quarterback.
I know what you're thinking and the answer is yes. I have been burning the candle at both ends as of late.
Today isn't about diving into the song and dance that has been taking place in Indianapolis the last few weeks over whether or not the elder Manning will return to the Colts next season. If owner Jim Irsay planned on bringing the four-time NFL MVP back for another Super Bowl run, he'd have said so and quickly squashed the 24-hour rumor mill that has been pumping out Manning health updates faster than a Las Vegas blackjack dealer dishes out 20s that lose to 21s.
Instead, we're going to spend this fine afternoon taking a look at some of the potential landing spots for Manning and in the process will attempt to figure out which organization is the best fit for the future Hall of Famer…assuming he's healthy enough to play football in 2012.
Note: Vegas odds courtesy of R.J. Bell of Pregame.com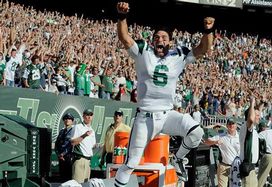 Shocker. The Jets making a play with Sanchez on the sidelines.
1. New York Jets (11% chance according to Vegas): In my opinion, this is the perfect destination for Manning. Current quarterback Mark Sanchez is not, REPEAT NOT, a franchise signal-caller capable of leading a team to a Super Bowl win. Throw in the fact that general manager Mike Tannenbaum and head coach Rex Ryan find themselves on the hot seat after last season's comical 8-8 campaign and you've got a front office/coaching staff in desperate need of deep playoff run in 2012. The Jets have the defense and the wideouts to bring home the Vince Lombardi Trophy next season. Unfortunately, they also have Sanchez.
2. Washington Redskins (17% chance according to Vegas): Owner Daniel Snyder has been known to throw cash at free agents the same way Pacman Jones tosses paper at the strip club. And while Washington has some key pieces to the puzzle already in place, they don't have enough to be a serious Super Bowl threat with Manning at the helm. With the sixth pick in April's draft, the 'Skins should be thinking about drafting a young quarterback that head coach Mike Shanahan can develop into the next big thing, rather than landing a 35-year-old in the tail end of his illustrious career. However, at 125-1, it's well worth betting Washington to win the Super Bowl if you think Manning is headed to our nation's capital.
3. Miami Dolphins (20% chance according to Vegas): Why? The Dolphins have a new head coach and need to be thinking about the long-term future of their franchise. This organization swung and missed on Drew Brees a few years back and shouldn't get caught chasing a guy with only a couple of quality years left in the tank. Draft a quarterback in the first round and develop him, just like the Lions did with Matthew Stafford. Although I have to admit, it would be kind of awesome watching Manning and Tom Brady go head to head twice a year.
4. Philadelphia Eagles (6% according to Vegas): Forget it. They already spent $100 million on a guy who's played one full 16-game season in his nine-year career. For as much as this team loves quarterback drama, it ain't happening.
5. San Francisco 49ers (2% chance according to Vegas): Hell yes! If the Niners went 13-3 and made it to the NFC Championship game with Alex Smith under center, think about what this team could do with Manning. Sign the guy, draft a wide receiver and strike fear into the hearts of NFC rivals from coast to coast. Alex Smith was a nice story in 2011, but it says a lot when we're patting a former No. 1 overall selection on the back for throwing 17 touchdown passes in his sixth NFL season.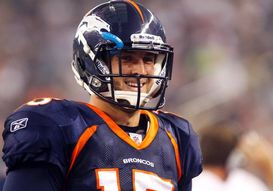 Tim Tebow AND Peyton Manning? Talk about total cosmic convergence.
6. Denver Broncos (3% chance according to Vegas): Peyton Manning and Tim Tebow on the same team? That would be like casting the Kardashian sisters on the next season of "Jersey Shore."
7. Tennessee Titans (1.5% chance according to Vegas): A formidable sleeper in the race for Manning according to many. But didn't these guys just spend a top-ten pick on Jake Locker last April? You have to figure the Titans would be a bit skittish about spending a large chunk of cheese on Manning after giving running back Chris Johnson $53 million to produce the worst statistical season of his four-year career.
8. Seattle Seahawks (6% according to Vegas): They haven't been mentioned once in connection with a potential Manning signing, but don't put anything past head coach Pete Carroll. Tarvaris Jackson and Charlie Whitehurst are not the answer, but a healthy Manning should be enough to have Jim Harbaugh and the boys down south sweating some bullets entering September.
9. Kansas City Chiefs (1.5% according to Vegas): How's that $63 million you spent on Matt Cassel working out?
10. Retirement (20% chance according to Vegas): I hate that this is an option. We aren't ready for a league without Peyton Manning. The guy is just too damn good.
Hit me up on Twitter: @JoeFortenbaugh