April 28, 2012 -
Joe Fortenbaugh
Let's pump the brakes on draft grades for a minute
Sometime between the certainty of Andrew Luck to the Colts and the conclusion of the NFL draft's third round came three decisions by the Seattle Seahawks that have already fallen subject to intense criticism.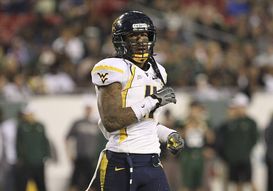 ICONWe won't know if Seattle made the right decision on Bruce Irvin until the rookie actually takes the field.
It started Thursday night with the selection of West Virginia defensive end Bruce Irvin, whose name hadn't been mentioned a single time in connection with the first round until approximately 24 hours before the draft went live. Many simply assumed the Seahawks had overpaid for the 22-year-old pass rusher's services since Thursday night was the first time they had ever heard his name.
But let me ask you this: Would the same criticism over the Irvin pick be handed down had Bill Belichick and the New England Patriots been the ones pulling the trigger?
Seattle also caught some interesting looks on Friday after trading back and passing up on California linebacker Mychal Kendricks in favor of Utah State LB Bobby Wagner. And while he's certainly a player with upside, was it prudent for the 7-9 Seahawks to use a third round pick on Wisconsin quarterback Russell Wilson when the team just went out and signed free agent Matt Flynn?
If Irvin registers 12 sacks next season and Wilson one day emerges into a capable starting signal-caller, Seattle's 2012 draft class will likely be deemed a success. But until these players actually take the field, applying a grade to this incoming crop of rookies who have never played a professional down of football is merely a guessing game based on pre-draft assessments that have long since proven to be anything but an exact science.
Vegas odds will rise and fall next week based on the perception that some NFL teams have improved their Super Bowl chances over the weekend while others have not. It's a similar perception that led to the installation of the Packers as an eight-point favorite over the Giants last January as well as the sixth-round selection of quarterback Tom Brady back in 2000.
Two shining examples of why rushing to judgment over something as inconclusive as this weekend's results can prove an exercise in futility, because perception and reality are often two different beasts altogether.
Hit me up on Twitter: @JoeFortenbaugh