July 31, 2011 -
Barry Dorey
Lions continue to upgrade defense, sign Tulloch
When he took the job in 2009, Lions head coach Jim Schwartz inherited the worst defense in the NFL.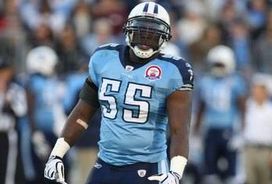 In Detroit, Tulloch will be reunited with former defensive coordinator Jim Schwartz.
After two years of smart draft picks and strategic free agent signings, the Lions ended their 2010 campaign as the league's 21st ranked defense, improving 11 spots and giving up 7.8 fewer points per game than the year before.
With the linebacking unit clearly a top priority, Schwartz has once again made some key moves to upgrade his defense. After landing former Jaguar linebacker Justin Durant earlier this week, the Lions reached an agreement with former Titan Stephen Tulloch Sunday morning, per Sean Jensen of the Chicago Sun-Times.
The two parties are quite familiar with one another, as Schwartz was the defensive coordinator for the Titans during Tulloch's first three seasons in Tennessee.
The signing more than likely means the Lions are out of the Nick Barnett sweepstakes.
Hit me up on Twitter: @JoeFortenbaugh