March 07, 2012 -
Joe Fortenbaugh
Looks like the Niners aren't interested in Manning
While teams like the Cardinals, Dolphins and Redskins continue to build up steam as potential landing spots for free agent quarterback Peyton Manning, some feel that the 13-3 San Francisco 49ers could be the organization that benefits the most from the future Hall of Famer's services.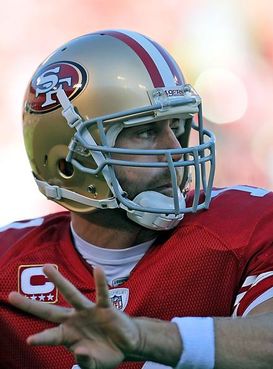 It appears as if the Niners would rather bring back Smith than make a move for Manning.
The problem for Niners fans interested in landing Manning is that those people don't reside within the San Francisco front office.
"We haven't had Peyton in here nor are we even talking about those things internally right now," 49ers general manager Trent Baalke told radio station KNBR Wednesday morning. "Is he going to play? I don't know. That's for the doctors to make the decision on and for him himself."
San Francisco made it all the way to the NFC Championship game last season and many have speculated that a healthy Manning could be the missing piece that takes the team to the next level in 2012. However, Baalke's statements indicate that the team would rather take their chances next season with current quarterback Alex Smith, who is scheduled to become a free agent on March 13.
Smith did an excellent job managing games last season, but threw only 17 touchdown passes and completed just 46.2% of his attempts in the NFC Championship game against the New York Giants. The Niners will need him to take the next step in 2012 if they want to make it to the Super Bowl, but after six seasons, it's hard to imagine Smith is capable of anything more than he has already shown.
Hit me up on Twitter: @JoeFortenbaugh