June 14, 2012 -
Joe Fortenbaugh
Luck vs. Griffin: Who ya got?
In the world of professional sports, you don't have to look far to find bad draft decisions that have crippled franchises. The Portland Trail Blazers' 2007 selection of Ohio State's Greg Oden over some dude named Kevin Durant immediately comes to mind.
Thankfully, you won't have to pay the same price for making a similar mistake in the fantasy football world. In that universe, you may be out a few bucks. In the real world it can cost somebody their job.
Fantasy owners are going to be tasked with a far less strenuous decision this August in the form of whether or not to take a flier on rookie quarterbacks Robert Griffin III and Andrew Luck. Both players are riding a wave of hype into the 2012 season, but is either signal-caller capable of consistently producing the statistics necessary to warrant a spot in the starting lineup? And if so, will either quarterback achieve enough to justify his draft position?
Welcome to today's debate: For the 2012 fantasy football season, would you rather have Andrew Luck or RG3 on your roster?
VALUE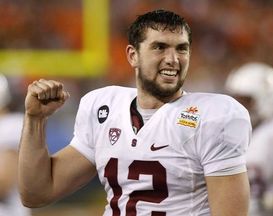 ICONAt the current moment, Andrew Luck can be had for a much cheaper price.
Edge: Andrew Luck
Reason: Whether it's the Heisman Trophy win, the exhilarating performance against Oklahoma or the flashy socks, RG3 is a very popular guy. His current ADP (average draft position) over at fantasy football calculator.com is 88.9, while Luck checks in at 134.3. Looking strictly at the quarterback position, Griffin, on average, is the 12th signal-caller off the board while Luck ranks 19th. In fact, RG3 is being selected before proven commodities like Ben Roethlisberger, Matt Schaub and Jay Cutler. In my opinion, that's far too steep a price to pay for a guy who has never taken an NFL snap. Luck has the edge when it comes to value.
COMPETITION
Edge: Andrew Luck
Reason: Eight indoor home games coupled with a divisional schedule that features four matchups against the Jacksonville Jaguars and Tennessee Titans gives Luck the edge when examining the 2012 NFL schedule. Meanwhile, RG3 will play six divisional games against teams that ranked in the top-7 in sacks last season. You're telling me I can get the guy who has a softer schedule at a much cheaper price? So far the signs are pointing to Andrew Luck.
SUPPORTING CAST
<p>
Edge:
Robert Griffin III
Reason: RG3 will be coached by the same guy (Mike Shanahan) who had a big hand in helping Hall of Fame quarterback John Elway notch back-to-back Super Bowl wins in the late 90's. In addition, the Redskins recently upgraded their receiving unit by signing Pierre Garcon and Josh Morgan to play alongside Santana Moss. And don't forget tight end Fred Davis, who at times will operate as a safety valve for Griffin when all else goes to hell. Luck is surrounded by veteran talent in the form of Pro Bowler Reggie Wayne and Austin Collie, not to mention fellow Stanford rookie Coby Fleener at the tight end position. But when the smoke clears, I feel that a slight edge for RG3 exists when it comes to evaluating the supporting casts of both rookie quarterbacks.
UPSIDE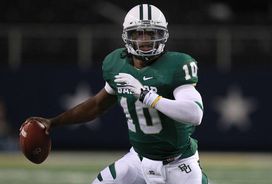 RG3's ability to create plays with his feet gives him the edge in the upside department.
Edge: Robert Griffin III
Reason: In my opinion, Luck offers the greater likelihood of producing consistent numbers over a longer period of time. But RG3's athleticism and ability to create big plays with his feet give the Baylor product the edge when it comes to upside. The comparisons to Cam Newton have been rampant, but keep in mind that these two quarterbacks have very different running styles. Griffin is more of a straight-line runner with breakaway speed, while Newton moves like a running back who is very difficult to bring down in the open field. The bottom line is that Luck may be safer, but Griffin offers owners a better chance of hitting the jackpot.
QUARTERBACKING TALENT
Edge: Andrew Luck
Reason: If the category were "athleticism," Griffin would get the nod. But if we are to look solely at the potential of what each player is capable of achieving in 2012, I'm siding with Luck. The 22-year-old spent three seasons in a pro-style offense at Stanford where he completed over 70% of his passes from 2010-2011. RG3 played in a spread offense against defensively challenged Big 12 competition where he completed more than 68% of his passes in just one of four seasons. Griffin's learning curve will be steeper, which is why Luck is more likely to return bigger dividends on your investment this season.
THE DECISION
Pick: Andrew Luck
Reason: Both quarterbacks have the potential to become stars in the NFL. This much I think we can all agree on. But when it comes to the 2012 fantasy season, I would rather pay a cheaper price for a safer quarterback who would serve as a QB2 on my roster rather than overpay for a prospect who is facing a tougher schedule. Griffin has a lot going in his favor, but there is going to be at least one owner in every league who is willing to pull the trigger way too early for his services after watching what Cam Newton produced in Carolina last season. That's the main reason why I'm siding with Andrew Luck.
Hit me up on Twitter: @JoeFortenbaugh