August 02, 2011 -
Joe Fortenbaugh
Maclin reports to camp, but is he healthy?
The good news for Eagles fans (as if they haven't gotten enough of it already) is that wide receiver Jeremy Maclin has reported to training camp at Lehigh University.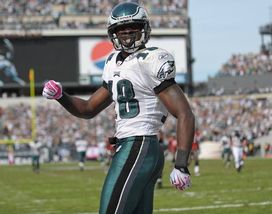 Maclin has reported, but is he ready to practice?
The potentially bad news is that we still aren't sure if he's 100% recovered from the mysterious illness that had kept him away from the team prior to Tuesday.
The Eagles second-leading receiver from a year ago, Maclin was battling "mononucleosis-like" symptoms earlier this year which forced him to lose 20 pounds, per Jonathan Tamari of the Philadelphia Inquirer. The 23-year-old had put the weight back on, but we've yet to see a report describing what type of shape Maclin is in at the current moment.
With Pro Bowl receiver DeSean Jackson currently holding out for a new contract, the hope in Philadelphia is that Maclin will be ready to go in the very near future.
Otherwise, that new Eagles defense may have their work cut out for them early in the season.
Hit me up on Twitter: @JoeFortenbaugh