April 04, 2012 -
Joe Fortenbaugh
Madden 13 cover vote down to elite 8
Defense may win championships, but when it comes to the fans' idea of which player should receive the glory of appearing on the cover of a video game, the offensive side of the football still dominates.
EA Sports announced on Wednesday morning that the Madden 13 cover vote campaign had officially reached the elite 8, with seven offensive players and just one defender left standing.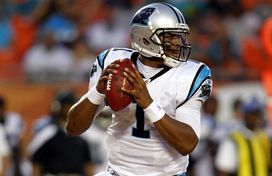 Is this the next Madden cover boy?
Panthers quarterback Cam Newton will take on Cardinals wide receiver Larry Fitzgerald, Packers signal-caller Aaron Rodgers is set to go head-to-head with Ravens running back Ray Rice, Lions wide receiver Calvin Johnson will meet Patriots tight end Rob Gronkowski and Giants wideout Victor Cruz has a date with 49ers linebacker Patrick Willis.
The voting is now open to see which four players will advance in the competition. You can CLICK HERE to get involved. The winners of the elite 8 will be announced next Wednesday.
Newton looks like the favorite to grace the cover of this year's installment of the popular Madden video game franchise, but don't rule out a potential dark horse like Gronkowski from stealing the show. After all, former Browns running back Peyton Hillis scored a big upset win over Aaron Rodgers last season.
Which—for those who believe in curses—had most of Packers nation satisfied with the result.
Hit me up on Twitter: @JoeFortenbaugh