April 11, 2012 -
Joe Fortenbaugh
Madden 13 Cover Vote down to Final Four
And then there were four.
EA Sports announced Wednesday morning that the race to land the cover of the Madden 13 video game has been whittled down to four players, with Panthers quarterback Cam Newton to face 49ers linebacker Patrick Willis and Packers quarterback Aaron Rodgers to meet Lions wide receiver Calvin Johnson in the semi-finals.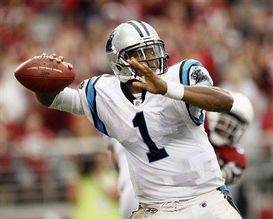 Cam Newton has landed over 70% of the vote in each of the three completed rounds.
In what many consider the biggest upset of the Elite 8, Megatron earned his spot in the Final Four after garnering 63% of the vote to upset Patriots tight end Rob Gronkowski.
Rodgers nabbed 55% of the vote against Ravens running back Ray Rice, Willis earned 55% of the vote against Giants wide receiver Victor Cruz and Newton came away with the widest margin of victory after blowing out Cardinals wideout Larry Fitzgerald 70% to 30%.
Final Four voting is now available over at ESPN, with the winners expected to be announced on Wednesday, April 18.
This is the second consecutive year that Rodgers has made it all the way to the Final Four. Last spring he came up short against former Browns running back Peyton Hillis, but some speculated the reason for the upset was due in large part to Packers fans voting against their star quarterback in an effort to avoid any possible run-ins with the dreaded Madden cover curse.
Hit me up on Twitter: @JoeFortenbaugh