August 05, 2011 -
Barry Dorey
Malcom Floyd is back with the Bolts
After two weeks of testing the marketplace, free agent wide receiver Malcom Floyd has decided there's no place like San Diego.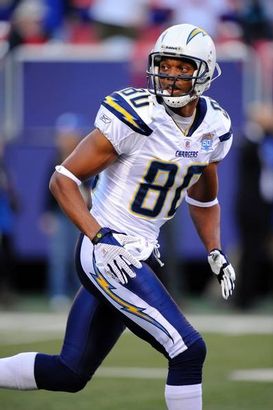 ICONFloyd scored a career-high six touchdowns last season.
ESPN is reporting that the six-year veteran and the Chargers reached an agreement on a two-year deal Friday afternoon. Financial details weren't immediately made available.
After posting career-highs in touchdowns (6) and yards per reception average (19.4) last season despite playing in just 11 games, some experts thought Floyd would command more attention on the open market.
But as Braylon Edwards found out on Thursday, perception is often very different from reality.
Floyd's new deal means that quarterback Philip Rivers will enter the 2011 season with two big-play starting receivers (the other being Vincent Jackson) as well as a Pro Bowl tight end in Antonio Gates.
But the question isn't whether or not the Chargers will be able to score points—we all know that they can. What really matters in Southern California this year is whether or not head coach Norv Turner can finally get this team to play up to its potential, something that has been a tall order as of late.
Hit me up on Twitter: @JoeFortenbaugh