February 23, 2012 -
Joe Fortenbaugh
Manning to Miami? Fish fans are pushing for it
INDIANAPOLIS—When Hall of Fame quarterback Dan Marino retired from football following the conclusion of the 1999 season, every Miami fan knew it would be next-to-impossible to quickly find a replacement with the same level of talent.
12 seasons later and the Dolphins' standards for the most important position in all of sports have become so low that the fans have decided to try and take matters into their own hands.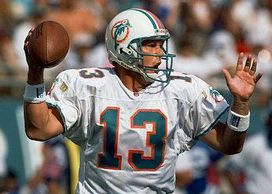 The Dolphins have won just one playoff game since Dan Marino retired following the 1999 season.
Local10.com in Miami is reporting that a billboard has popped up in Fort Lauderdale advertising the website ManningToMiami.com, a movement designed to influence soon-to-be free agent Peyton Manning into taking his talents to South Beach.
With failed experiments over the last decade that have included guys like Daunte Culpepper, Jay Fiedler, A.J. Feeley and—most recently—Chad Henne, you'll have to do more than four neck surgeries to convince the Miami faithful that Manning isn't worth signing.
Remember, it was only six years ago that the Fish passed on an opportunity to sign some guy named Drew Brees, who turned out to win a few games with a team that took advantage of the Dolphins' blunder.
Miami's warm, the fans will be more than welcoming and—oh yeah—the Dolphins will be traveling to Indianapolis in 2012 to play the Colts.
Hit me up on Twitter: @JoeFortenbaugh