March 17, 2012 -
Joe Fortenbaugh
Manning to the 49ers creates conflict of interest for agent
The Peyton Manning free agency tour took another impromptu turn Friday afternoon as the San Francisco 49ers suddenly emerged as legitimate contenders in the race for the future Hall of Famer's services.
With the 49ers' hat officially in the ring, the hunt for Manning's autograph on the last page of an NFL contract now becomes a bit more complicated for the Denver Broncos and Tennessee Titans, whose respective front offices were likely under the impression that the running to land the former Indianapolis Colt had already been whittled down to a two-horse race.
Upon a deeper look into the dynamics of the wildest free agent chase since the Reggie White sweepstakes of 1993, the 49ers' pursuit of Manning also complicates matters for quarterback Alex Smith and longtime NFL agent Tom Condon.
The first overall selection of the 2005 NFL draft, Smith has spent his entire six-year career quarterbacking the 49ers until becoming a free agent and entering the open market last Tuesday. And while it's been heavily rumored that both the organization and Smith's camp have been working hard to hammer out a new contract for the 27-year-old, you can't help but wonder if he's now become an afterthought with the 49ers currently in hot pursuit of the highly-coveted Manning.
In situations like these, it would become the responsibility of Smith's agent to take charge and find a way to create some leverage for his client. After all, Smith's giving up 3% of his contract in exchange for his agent's services.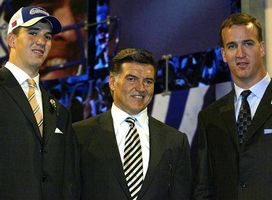 In addition to representing both Eli and Peyton Manning, Tom Condon (center) represents Alex Smith.
But therein lies the problem. Because it turns out that the individual responsible for doing everything in his power to protect Alex Smith's best interests is also the same man tasked with providing those very same services to Peyton Manning.
And it looks as if both players could be competing for the very same job.
Tom Condon is without question one of the most successful and well-respected agents in the business. He's represented countless first-round draft picks as well as negotiated some of the most lucrative contracts for free agents in league history.
But Condon finds himself in a precarious position representing both Alex Smith and Peyton Manning. If his job is to put the best interests of each of his clients above all else, how can he possibly do what's right for both players when they are competing for the same position on the same team?
"The league is full of conflicts with agents representing general managers, coaches and players, said longtime NFL agent Jack Bechta. "It's just human nature to play favorites. But when an agent represents two players vying for the same job, there is a moral obligation to do what's in the best interest of both players. However, what may be in the best interest of one client may not be in the best interest of the other."
It's possible that Smith could earn more money by signing with another team, but he had a big hand in leading the 49ers to a 13-3 regular season record and a spot in the NFC Championship game last season. Having already spent six years with the organization, Smith has forged bonds with his current teammates and more importantly, has a solid understanding of the San Francisco offense.
Signing with a new team for more money looks good on paper, but would it truly be the best fit for Smith? After all, one bad season at the helm of a new offense could land Smith on the hot seat, just like it for did Kevin Kolb in Arizona.
So if Condon is to advocate on behalf of Smith that the 49ers are better suited paying less money for his services than for those of Manning, wouldn't he effectively be failing as Manning's agent?
But from Manning's perspective, it's no question that joining the 49ers would give the 35-year-old the best chance to make one last push for a second Vince Lombardi Trophy. Playing in a weak division like the NFC West with a team that won 13 games in 2011 should be more appealing than taking over in either Denver or Tennessee, who combined for a record of 17-15 last year.
And if the 49ers happen to offer more money than both the Broncos and Titans, wouldn't Condon be required to advise Manning to sign with San Francisco even though it would likely cost Alex Smith the chance to be in the best possible situation to succeed?
In effect, it appears as if there is no way for Condon to fulfill his obligations to either Smith or Manning without causing harm to the other. If this is indeed the case, Condon should either step down from his role as contract advisor to one of the quarterbacks or clearly explain the situation to both while letting them make the final decision.
Otherwise, somebody is going to wind up getting the short end of the stick and you can bet it won't be Condon, who would still wind up collecting 3% of both Smith and Manning's new contracts.
Hit me up on Twitter: @JoeFortenbaugh