July 30, 2011 -
Barry Dorey
Manning's millions
After three-time Super Bowl winner Tom Brady inked a four-year, $72 million contract last September, you knew it was only a matter of time for Peyton Manning.
Payday has arrived.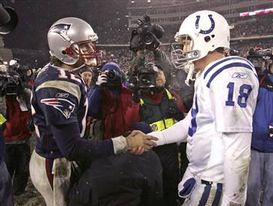 "Welcome to the $18 million per year club."
Chris Mortensen of ESPN is reporting that the Indianapolis Colts have reached an agreement with four-time NFL MVP Peyton Manning on a five-year contract worth a screw-Sandals-I-can-buy-my-own-island $90 million.
So lets break out our calculators and do some math. Based on the deal Brady signed last fall, the Patriots top gun will be making an average of $18 million per year. Based on the deal Manning agreed to Saturday, the Colts best player will be making...$18 million per year.
Beautiful.
So for any of you out there who thought the "which quarterback would you rather have, Peyton Manning or Tom Brady?" debate would be solved when Manning signed his new deal, it looks like we won't be able to use "richest contract" as a tiebreaker.
Speaking of rich, I can think of a certain quarterback down in Louisiana who must be smiling ear to ear right now knowing he's next in line for a bank-vault-blasting contract..
Any chance the New Orleans Saints go over the $18 million per year number that seems to be the going rate for elite NFL signal-callers?
Hit me up on Twitter: @JoeFortenbaugh