July 29, 2011 -
Barry Dorey
Marcus Spears is back with the 'Boys
Having recorded just eight sacks in six years with the Dallas Cowboys, defensive end Marcus Spears never really lived up to the expectations that came with being the 20th overall pick in the 2005 draft.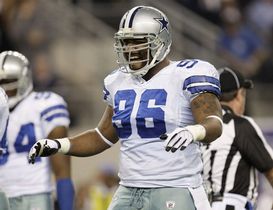 Looks like Marcus Spears will be a Cowboy for the next five years.
However, the 28-year-old started 78 games for the Cowboys since joining the organization as a rookie and provides some nice depth for Dallas' 3-4 front. So it doesn't come as a major surprise to hear that the free agent defensive end and the Cowboys reached an agreement Friday afternoon on a new, five-year contract.
Per Adam Schefter of ESPN, the deal is worth a total of $19.2 million.
Now that Spears is back in the fold, you have to wonder if Jerry Jones and his staff will turn their attention back to Nnamdi Asomugha, or if the Jets have already beaten them to this year's most coveted free agent prize.
Hit me up on Twitter: @JoeFortenbaugh