March 13, 2013 -
Joe Fortenbaugh
Market for Asomugha currently includes four teams
Two years ago, Nnamdi Asomugha gave cornerbacks around the league a reason to celebrate, as his five-year, $60 million contract with the Philadelphia Eagles helped to establish a high ceiling for elite free agent cover corners looking to strike it rich.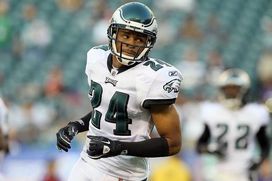 Two years after hitting it big in free agency, Nnamdi Asomugha is back on the open market.
Two years later and the free agent cornerback contingent has to be groaning about Asomugha's presence on the already-saturated market, as another available player means less opportunities for everybody else.
But now that Asomugha is back in the game, prospective employers have begun calling. Per Mike Florio of Pro Football Talk, the San Francisco 49ers, Houston Texans, Arizona Cardinals and Denver Broncos have all emerged as potential suitors.
Houston was in the mix for Asomugha's services back in 2011, but the Texans decided to go in a cheaper direction by signing Johnathan Joseph. All Joseph has done since joining the Texans two years ago is earn two trips to the Pro Bowl and a spot on the 2011 All-Pro team.
At 31-years-old, at least one team is going to make an offer under the assumption that Asomugha can come in and improve their defense. But with a skill set that is in noticeable decline, that offer won't be in the $15 million per year range the Eagles were willing to shell out two seasons ago.
Hit me up on Twitter: @JoeFortenbaugh