July 31, 2012 -
Joe Fortenbaugh
Market watch: NFL season win totals
I spent just over two hours this morning driving around to some of the local Las Vegas sportsbooks for the purpose of tracking down the latest NFL season win totals. My goal was to write an article today discussing some of the key movements that have taken place since the market opened at the beginning of the summer.
And as luck would have it, I find out five minutes after completing this article that some of the shops here in town are set to adjust their numbers yet again. A day late and a dollar short. The story of my life.
Anyway, I'll get to work on a follow-up to this piece so that we can examine the latest movements, but for now, here are the biggest shifts that have taken place over the last few weeks at three of Sin City's most notable shops: Cantor, LVH and the MGM.
Note: The full breakdown is listed in a chart at the end of this article.
THE BIG ONE
Buffalo Bills: Between the three books, no team has undergone more movement since the opening numbers were posted than Chan Gailey's Buffalo Bills. Both Cantor and the MGM have adjusted north from 7 wins to 8 while also increasing the juice (Cantor's Over: -135, MGM's Over: -130). LVH has held tight at 7.5, but shifted the over from +110 to a staggering -190. This was one of the teams we told you to bookmark back when the 2012 win totals first hit the board, and it now looks like we weren't the only ones who had the Buffalo over circled.
HALF GAME SHIFTS AT MULTIPLE BOOKS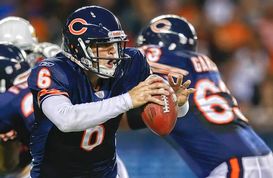 ICONJay Cutler and the Chicago over have been a poplar bet here in Vegas.
Chicago Bears: Another team the betting public has fallen in love with this summer, the Bears have moved a half game north at all three sportsbooks. Cantor came up from 8.5 to 9 with an increase in juice as well, while both LVH and the MGM moved from 9 to 9.5. In addition to the Bills, this was another team we told you to keep an eye on when the opening numbers first came out. Successfully navigating through the NFC North this season will be no easy task, but the Bears have enough talent on both sides of the ball to reach ten wins…if they can stay healthy.
Cleveland Browns: Cantor hasn't moved off of 5.5 wins, but LVH adjusted from 4.5 to 5 while the MGM dropped from 6 to 5.5. With a rookie quarterback and a relatively unknown receiving unit, it's conceivable the Browns will go 0-6 within the AFC North this season. I've got no feel for this one, so we're probably best off passing and looking for a better option.
St. Louis Rams: LVH went from 5.5 to 6, the MGM went from 6.5 to 6 and Cantor opened and has held tight at 6. With all three books offering the same number, we'll have to look at the juice to determine which shop has the best price. Over bettors should head for the MGM (Over: even), while under bettors are best served checking out LVH (Under: -110). I've talked to more than one professional bettor here in Vegas that likes the over in this spot.
Tampa Bay Buccaneers: Here's another situation where the MGM is coming down (6.5 to 6) while LVH is going up (5 to 5.5). Tampa Bay has a new head coach and should benefit from a positive adjustment in the turnover differential department, but can we really trust quarterback Josh Freeman and this young Buccaneers roster to post six wins in 2012? Week 1 will be a terrific test, as the Bucs are currently listed as 3-point home dogs to division rival Carolina.
Hit me up on Twitter: @JoeFortenbaugh
Note: Teams listed in blue reflect movements of 1 or .5 games in either direction.