July 10, 2012 -
Joe Fortenbaugh
Market watch: Week 1 NFL lines
We may be just under nine weeks away from the start of the 2012 NFL season, but that hasn't stopped plenty of bettors from hitting the books to get down some action on the Week 1 lines. Cantor Gaming got the ball rolling by releasing point spreads for every Week 1 game just over two months ago, and plenty of other shops have since jumped on board and followed suit.
Today we're going to take a look at some of the key line movements that have gone down since the numbers hit the board back in early May.
Philadelphia Eagles at Cleveland Browns
When: Sunday, 1:00pm ET
Opening line: Eagles -7 (Cantor)
Current line: Eagles -9 (LVH)
Analysis: Early bettors got down on a Philadelphia team that went 5-3 ATS on the road last season and returns in 2012 with an upgraded defense. Andy Reid's team is 3-1 over the last four years in Week 1, while the Browns have dropped six consecutive Week 1 matchups. Throw in the fact that Cleveland is expected to trot out rookie quarterback Brandon Weeden to open the season and you can see why the early cash is coming in on the playoff-hopeful Eagles.
Buffalo Bills at New York Jets
When: Sunday, 1:00pm ET
Opening line: Jets -5.5 (Cantor)
Current line: Jets -3.5 (BetOnline.com)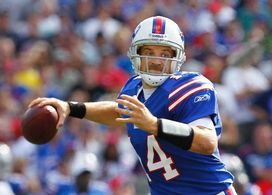 Are Ryan Fitzpatrick and the Bills headed for a big season?
Analysis: The Bills haven't posted a winning season since 2004, but there is some talk around Vegas that this could be one of the surprise teams of 2012. Buffalo spent the offseason signing DE Mario Williams and drafting CB Stephon Gilmore to improve a defense that surrendered 27.1 points per game last year (t-30th in NFL). As for the Jets, it all comes down to the quarterback position and Mark Sanchez, who finds himself on the hot seat entering his fourth NFL campaign. Keep in mind that the Bills have lost seven of their last eight games against the Jets.
Miami Dolphins at Houston Texans
When: Sunday, 1:00pm ET
Opening line: Texans -6 (Cantor)
Current line: Texans -7 (across the board)
Analysis: A one-point adjustment in Week 1 may not seem like a big deal, but take note that this game has moved from -6 to the key number of -7. That's significant. The Texans bring last year's second-ranked defense to the table along with the healthy return of quarterback Matt Schaub and Pro Bowl wide receiver Andre Johnson, not to mention one of the league's deadliest rushing attacks in Arian Foster and Ben Tate. On the other side of the field sits a new-look Dolphins team with uncertainty at the quarterback position led by first year head coach Joe Philbin. At -6, Houston was my favorite play for Week 1. At -7, I'm still on board.
Pittsburgh Steelers at Denver Broncos
When: Sunday night, 8:25pm ET
Opening line: Broncos -2 (Cantor)
Current line: Broncos -1 (BetOnline.com)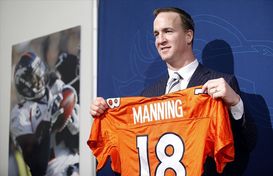 Peyton Manning's first test in Denver won't be an easy one to pass.
Analysis: The media and the general public may be predicting big things for the Denver Broncos in 2012, but that's not the way the early bettors in Vegas see it. Let's start with Denver's season win total, which Cantor opened at 9.5 (Over: -110, Under: -120) but has since readjusted with heavy juice on the under (Over: +150, Under: -180). For the uninitiated, that means the early money is coming in on the under. Therefore, it's no surprise to see that the early money for Peyton Manning's debut at Mile High is also coming in against the Broncos. Pittsburgh is out for revenge after falling 29-23 in overtime against Denver in last season's wildcard round. And don't forget about the ass-kicking the Steelers took last year in Week 1 at Baltimore, when the Ravens ripped the Black & Yellow to shreds in a 35-7 blowout. Expect the Steelers to be well prepared for this one.
San Diego Chargers at Oakland Raiders
When: Monday night, 10:15pm ET
Opening line: Pick (Cantor)
Current line: Chargers -1
Analysis: The Chargers are 3-2 straight-up in Week 1 under head coach Norv Turner, but are just 1-3 against the Raiders over the last two seasons. Turner's on the hot seat, wide receiver Vincent Jackson is gone and the team desperately needs to improve a defense that surrendered 23.6 points per game in 2011 (22nd in NFL). The Raiders should benefit from a full offseason of work with veteran quarterback Carson Palmer, not to mention the healthy return of running back Darren McFadden. Take note that the Bolts went 3-5 ATS on the road last season.
Other movements of note…
Atlanta Falcons (Open: pick, Current: ATL -1) at Kansas City Chiefs
Cincinnati Bengals (Open: BAL -7, Current: BAL -6) at Baltimore Ravens
St. Louis Rams (Open: DET -9.5, Current: DET: -8.5) at Detroit Lions
Indianapolis Colts (Open: CHI -9.5, Current: CHI -10) at Chicago Bears
Hit me up on Twitter: @JoeFortenbaugh