October 05, 2010 -
Joe Fortenbaugh
Marshawn Lynch gets traded
Looks like all of those conspiracy theories about the Buffalo Bills giving Marshawn Lynch more playing time in order to increase his trade value were on the money.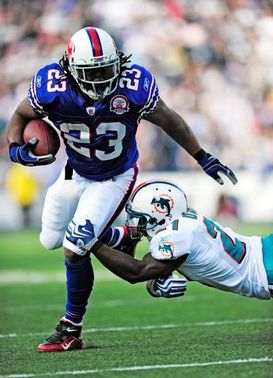 iconMarshawn Lynch is headed to Seattle.
The Bills shipped Lynch to the Seattle Seahawks Tuesday afternoon in exchange for a 2011 fourth-round pick and a 2012 conditional pick, according to Adam Schefter of ESPN.com.
Now, what do we make of all this?
First off, this is bad news for Justin Forsett and Leon Washington owners. The trade for Lynch shows that Seahawks head coach Pete Carroll certainly isn't thrilled about a rushing attack that currently ranks 27th in the NFL (79.5 yds/gm).
Translation: Forsett's stock is going down. We'd say the same about Washington, but he's barely getting any carries as it is.
In regards to Lynch, he'll have the opportunity to start fresh in Seattle and get his career back on track. He might need some time to pick up the playbook, but he's definitely worth an add (if you haven't done so already), as his stock is currently moving in the right direction.
Lynch will have the opportunity to win the starting gig and be the featured back in Seattle. If you currently have him on your roster, be willing to listen to any and all trade offers.
To make room for Lynch, the Seahawks cut running back Julius Jones.