July 26, 2011 -
Barry Dorey
MGM sportsbook releases 2011 NFL win totals
On Tuesday afternoon, the Las Vegas MGM sportsbook became the first shop in the business to offer up NFL season win totals. For those of you new to the game, win totals means the over/under on how many wins an NFL team will record.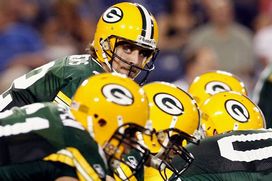 Rodgers and the Pack opened at 11.5.
For example, the line for the defending Super Bowl champion Green Bay Packers has been set at 11.5, meaning an over bet would turn a profit if the Packers win 12 or more games this season.
While these numbers were expected to hit the market this week, I find it a bit surprising that the MGM Mirage oddsmakers didn't want to wait until the end of free agency to post their numbers. Either way, it gives us something fun to talk about.
I spoke with back-to-back (2008 & 2009) Hilton SuperContest winner Steve Fezzik last week about some of the factors to keep in mind when betting NFL totals. Here are some of his thoughts:
1. It's clear certain teams are going to have a big following. EVERYONE would bet on Detroit OVER 7 wins, if this was posted, but likely it comes just a bit higher. (Editor's Note: Detroit opened at 7.5 wins).
2. Quarterback uncertainties are HUGE right now. Who is going to play quarterback in Arizona? This is going to make for some headaches setting lines for certain teams.
3. Was Cam Newton a good choice for Carolina? The pro bettors will say "MY GOODNESS NO!" as Carolina will have the lowest season win over/under. But money will STILL pour on the under 5 if Newton is named the starter. How silly is Carolina going to feel after a 3-13 season with a disastrous Newton if they can select Luck next year and then have to find some sucker to trade Newton to AND pay his contract? (Editor's note: Carolina opened at 4.5).
You can follow Fezzik on Twitter by clicking here. You can also check out his website by clicking here.
Hat tip to Ashton Grewal of Covers.com for the totals.
AFC EAST
New York Jets: 10 (Under -120)
New England Patriots: 11.5 (Under -120)
Buffalo Bills: 5 (Over -130, Under +110)
Miami Dolphins: 8 (Over -105, Under -115)
<p>
AFC NORTH
Pittsburgh Steelers: 11 (Under -120)
Baltimore Ravens: 11
Cleveland Browns: 6.5
Cincinnati Bengals: 7.5 (Over -120)
AFC SOUTH
Indianapolis Colts: 10 (Under -120)
Houston Texans: 8 (Over -115, Under -105)
Jacksonville Jaguars: 6
Tennessee Titans: 6.5 (Over -115, Under -105)
AFC WEST
Denver Broncos: 6 (Under -120)
San Diego Chargers: 10
Oakland Raiders: 7
Kansas City Chiefs: 8 (Under -120)
NFC EAST
New York Giants: 9.5 (Over -105, Under -115)
Dallas Cowboys: 9 (Under -120)
Philadelphia Eagles: 10 (Over -120)
Washington Redskins: 6.5 (Over -120)
NFC NORTH
Green Bay Packers: 11.5
Chicago Bears: 9.5
Detroit Lions: 7.5 (Under -120)
Minnesota Vikings: 6.5 (Over -120)
NFC SOUTH
New Orleans Saints: 10 (Over +105, Under -125)
Atlanta Falcons: 10.5 (Over -105, Under -115)
Tampa Bay Buccaneers: 8.5
Carolina Panthers: 4.5
NFC WEST
Seattle Seahawks: 7 (Under -120)
St. Louis Rams: 7 (Over -120)
San Francisco 49ers: 8 (Over -120)
Arizona Cardinals: 6 (Over -120)
Early leans: Tampa Bay UNDER, Carolina UNDER, Washington UNDER, Houston OVER, Baltimore OVER
Hit me up on Twitter: @JoeFortenbaugh