January 17, 2012 -
Joe Fortenbaugh
Michael Floyd turns down big opportunity, says no to Senior Bowl
The college football all-star game held in Mobile, Alabama every January known as the Senior Bowl provides a tremendous opportunity for NFL prospects to get a leg up on the competition heading into draft season.
Players who accept invitations to play in the annual event are given the chance to spend a week working with NFL coaches while using their "free" time to talk with the media in an effort to generate more national exposure. They also spend valuable time meeting with representatives from the 32 NFL teams who are possibly interested in acquiring their services.
So it comes as a bit of a surprise Tuesday morning to find out Notre Dame wide receiver Michael Floyd has turned down an invitation to participate in this year's game, according to Tony Pauline of DraftInsider.net. While no reason was provided in regards to Floyd's decision to skip the event, if he's not injured, we think he's making a mistake.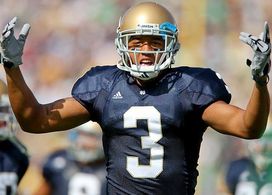 ICONMichael Floyd is turning down a big-time opportunity.
Had he accepted the invitation, Floyd would have given himself a week's head start on fellow wideouts Justin Blackmon (Oklahoma State) and Alshon Jeffery (South Carolina), two big-time, playmaking prospects who can't participate in the game because they are underclassmen. Floyd now puts himself on a level playing field with Jeffery and Blackmon, as all three will be limited to the NFL Combine and Pro Day workouts as their only opportunities to convince front office personnel that they are the top wideout in this year's draft class.
A successful week in Mobile can pay huge dividends on draft day. Just ask defensive end Brandon Graham (Michigan), who parlayed a solid week of practice coupled with earning the game's MVP award into becoming the 13th overall selection (Philadelphia) back in 2010. Graham entered the event having to fight off questions about his size (6-1, 263) and used an eye-catching week of practice to impress NFL brass.
Floyd is an exceptional receiver. The 22-year-old caught 100 passes for 1,147 yards and 9 touchdowns in 13 games with the Fighting Irish this past season. But he's facing some stiff competition at the wide receiver position in this year's draft and turning down an invite to gain a competitive advantage over underclassmen who weren't given the same opportunity could come back to cost him in April.
Remember, Blackmon torched the Stanford secondary in the Fiesta Bowl to the tune of eight receptions for 186 yards and three touchdowns en route to earning the game's MVP award. Jeffery rolled up 148 yards and a score on just four receptions in the Capital One Bowl and also brought home the game's MVP award.
Floyd, on the other hand, caught five passes for only 41 yards in an 18-14 loss to Florida State in the Champs Sports Bowl. While he did add a touchdown, Floyd didn't win MVP honors.
Which of these three wide receivers has been talked about the least following the conclusion of bowl season?
Hit me up on Twitter: @JoeFortenbaugh