December 28, 2010 -
Joe Fortenbaugh
Michael Vick named Pro Bowl starter
PHILADELPHIA—14 games into one of the most talked-about NFL seasons in recent memory, Michael Vick has earned himself another accolade.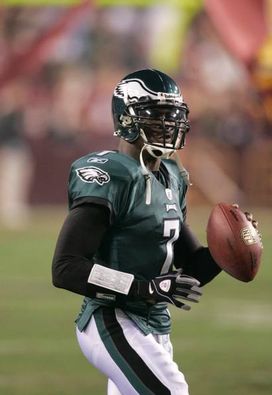 ICONMichael Vick is headed back to Hawaii.
Just over an hour before his Philadelphia Eagles were set to knock heads with the Minnesota Vikings, the electrifying signal-caller was named the starting quarterback for the NFC Pro Bowl team.
Joining Vick from the Eagles will be wide receiver DeSean Jackson, offensive tackle Jason Peters, cornerback Asante Samuel and kicker David Akers.
Vick—who is considered by many to be Tom Brady's main challenger to win the 2010 MVP award—is currently in the process of putting together the finest campaign of his 8-year career just over 20 months after being released from federal prison.
The 30-year-old currently ranks third in the NFL in passer rating (103.9), trailing only Brady and San Diego's Philip Rivers. With two games still to play, Vick has already tied his career high for touchdown passes in a season (20) and ranks first among quarterbacks in rushing yards (613) and rushing touchdowns (8).
This year's Pro Bowl invitation is Vick's fourth overall and his first as an Eagle.
For his next feat, the Philadelphia quarterback will attempt to light up the Vikings.
Hit me up on Twitter: @JoeFortenbaugh