August 24, 2011 -
Joe Fortenbaugh
Mike Patterson returns to action on Thursday
Reports of season-ending injuries wreaking havoc during the month of August always tend to put a dark cloud over an otherwise exciting time of the year.
Eagles defensive tackle Mike Patterson was one of the first players of the season to suffer a serious injury when he had a seizure at practice approximately three weeks ago due to a condition known as arteriovenous malformation.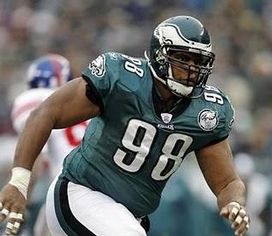 Patterson returns to action Thursday against Cleveland.
He's also one of the first players to bounce back and give us something positive to talk about.
Speaking to reporters on Tuesday afternoon, Eagles head coach Andy Reid said that Patterson will suit up and play in Thursday's preseason game against the Cleveland Browns.
"I can't tell you how much he's going to play, but we'll just see how things go," Reid told reporters Tuesday. "He's had a good week of practice and he's ready to go."
Eagles fans have to be happy about the news, especially after they watched their team's defensive line get pushed around the field in last week's loss to the Pittsburgh Steelers.
Hit me up on Twitter: @JoeFortenbaugh