August 09, 2013 -
Joe Fortenbaugh
Mike Tice wins $100,796.20 betting the ponies
Former Chicago Bears offensive coordinator Mike Tice seems to be enjoying his first year away from the National Football League since 1994.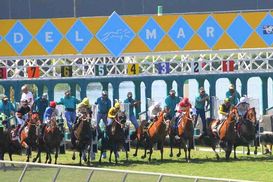 On Thursday, Tice hit the Pick 6 at Del Mar Surfside Race Place in Southern California and cashed in for $100,796.20, according to Vince Bruun, the Director of Media Relations at Emerald Downs in Auburn, Washington (h/t Brad Biggs of the Chicago Tribune). Tice's winning ticket cost a total of $128.
Per Bruun, Tice was the only bettor to hit the Pick 6 at Del Mar on Thursday. In addition, the front page of the Del Mar website confirms that the Pick 6 paid off on Thursday for just over $100,000.
The Pick 6 is a wagering option offered at racetracks in which bettors must select the winning horse in six consecutive races. Thursday's Pick 6 at Del Mar began with the third race and ended with the eighth.
Below are Tice's winners. Take note of the winning horse in Race 4.
PICK 6 WINNERS ON THURSDAY AT DEL MAR
Race 3: Brilliant Melody
Race 4: Tebowing
Race 5: Diamond Bachelor
Race 6: Joyce and Me
Race 7: Dancingtothestars
Race 8: Bardy
Hit me up on Twitter: @JoeFortenbaugh