November 19, 2010 -
Joe Fortenbaugh
Mike Williams busted for DUI, will play
Ten weeks into the NFL season and Tampa Bay rookie wide receiver Mike Williams had been doing everything necessary to repair a damaged reputation built during his time at Syracuse.
Friday morning's arrest won't help.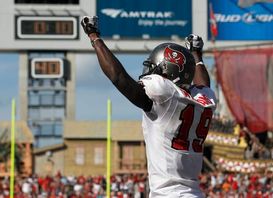 ICONDespite Friday morning's incident, Williams is expected to play on Sunday.
The 23-year old Williams was busted early Friday morning on suspicion of driving under the influence. The only good news here (if you can call it that) is that Williams blew a .065, which is below Florida's legal limit of .08.
Although the rookie wide receiver did not practice on Friday, head coach Raheem Morris said that Williams will travel with the team to San Francisco this weekend and will play, according to our friends at Pewter Report.com.
Through nine games, Williams was quickly establishing himself as one of the best up-and-coming receivers in the game. He's already hauled in 40 receptions for 627 yards (14th in NFL) and five touchdowns.
Talent aside, there's a reason this guy fell to the fourth round in last April's draft. Williams was the Big East's leading receiver last November when he decided to quit the team and end his career at Syracuse. Prior to that, Williams was suspended for the entire 2008 season when he was caught cheating.
With the amount of talent this guy has been flashing on Sundays, one can only hope Williams regains his focus after this latest incident and gets back on the right track.
Hit me up on Twitter: @JoeFortenbaugh