February 26, 2013 -
Joe Fortenbaugh
More questions
Notre Dame linebacker Manti Te'o was going to make headlines one way or another following Monday's performance in the 40-yard dash at the 2013 NFL Scouting Combine. Running in the 4.6-range would have triggered the "rising stock" commentary that makes for quick adjustments to the never-ending flood of mock drafts we see this time of year. Posting official results in the dreaded 5.0-neighborhood would have the naysayers heaping more criticism on the pile of baggage that has followed the Heisman finalist since early January.
When the dust had settled Monday at Lucas Oil Stadium, the most scrutinized player in this year's draft class had clocked an official time of 4.82 seconds. The result was slower than expected and will do nothing to help Te'o's cause. But while NFL personnel would prefer to see Mike Linebackers run in the 4.6-4.7 range during their Combine workouts, 4.82 is far from a deal breaker. It's an average time that should neither improve nor significantly decrease the draft position of Manti Te'o.
What the linebacker said afterwards should be more of a concern.
Speaking to the NFL Network after Monday's performance, Te'o called the Combine a "very exhausting process" that limited the 6-2, 255-pounder to approximately four hours of sleep per night. "I was running near a 4.6, a 4.5," Te'o told his interviewers. "Today was just a long, long day."
While both his honesty and willingness to address the situation on television are commendable, Te'o's response was a mistake that will once again raise questions about his mental toughness. The Combine isn't just about running, jumping and benching. It's about putting young men in a stress-filled, pressure-packed environment designed to do one thing: Determine which players are capable of rising to the occasion.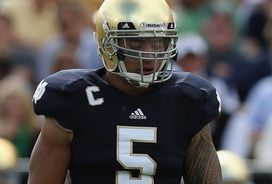 NFL executives know that Te'o can play football. That's not the issue.
These guys are afforded little sleep during this event for a reason. The litany of questions they are peppered with during the interview process has a specific purpose. The Combine isn't about creating a warm and cozy environment. It's an interrogation in the form of an interview. NFL executives want to see who will crack and who will thrive. The mental portion of this challenge is just as integral as the physical.
I'm not trying to say that Te'o made an excuse for his performance because I don't believe he did. He was simply using an honest answer to address a question he had been asked. But Te'o did make an admission, and that's the problem. He admitted to everybody watching that the Combine process got to him. The interviews, pressure and lack of sleep prevented Te'o from performing at his absolute best. And that's a problem for a guy who will at some point in the future be asked to plug a hole on fourth and one with less than a minute remaining.
Linebackers aren't supposed to be nice, honest guys. They are supposed to have a mean streak that prevents them from putting on a tie and kissing the wife before heading to the office. Ray Lewis and Brian Urlacher aren't the types of guys who come up short because of stress. They live for pressure. That type of personality is what makes a linebacker a linebacker.
Te'o should have simply told the NFL Network that he came up short and was disappointed at the result because he knows he's faster than what he showed. That over the next few weeks, he's going to work that much harder to prove the 4.82 was the exception and not the rule. But he didn't. Instead, Te'o was Te'o. Forthcoming and polite.
Manti Te'o is physically gifted and has a very impressive collegiate resume on display for potential future employers. But that's not what people are concerned about. Coaches and executives want to know what makes this guy tick.
They were given another glimpse of that on Monday.
Hit me up on Twitter: @JoeFortenbaugh