July 28, 2011 -
Barry Dorey
Moving west
Paging Larry Fitzgerald. Larry Fitzgerald, we've found you a quarterback.
And his name is Kevin Kolb.
In a move that surprised…well, nobody, the Philadelphia Eagles traded backup quarterback Kevin Kolb to the Arizona Cardinals Thursday in exchange for cornerback Dominique Rodgers-Cromartie and a second-round draft pick.
What may come as a surprise is the fact that Kolb just inked a five-year, $63 million deal with $20 million guaranteed, per a tweet from Adam Caplan of FOX Sports.com.
Bang.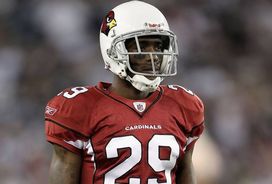 Rodgers-Cromartie will join Asante Samuel as the starting cornerbacks in Philly.
The deal had been rumored for quite some time, as the Cardinals needed to upgrade their less-than-stellar quarterback platoon of Max Hall and John Skelton while the Eagles needed to fill a gaping hole in the back end of their defense.
After being selected in the second round of the 2007 NFL draft in a move that surprised many, Kolb instantly became the heir apparent to longtime quarterback Donovan McNabb's throne in Philadelphia. But the 2009 acquisition of current starter Michael Vick threw a wrench into that plan when Vick stepped in and performed admirably for an injured Kolb in a Week 1 showdown against the Packers last season.
After four years in Philadelphia, Kolb exits town having made just seven career starts.
A three-year veteran, Rodgers-Cromartie is coming off a 42-tackle, 3-interception campaign that earned him his first trip to the Pro Bowl. The 25-year-old from Tennessee State made 43 starts for the Cardinals during his three years in Arizona and is expected to step into the starting lineup opposite Asante Samuel in Philadelphia this season.
Now that Kolb is officially headed out west, the Eagles find themselves in need of a quarterback to back-up Michael Vick.
Any thoughts on who they should target?
Will Kolb lead the Cardinals to the playoffs in 2011? Let us know in the NFP Forums!
Hit me up on Twitter: @JoeFortenbaugh