April 23, 2013 -
Joe Fortenbaugh
Multiple teams looking to wheel and deal on Thursday
Uncertainty reigns supreme when it comes to the NFL draft and 2013 is quickly proving to be no exception to the rule. Expect the unexpected, unless you're expecting to witness multiple teams wheeling and dealing in the first round. In that case, you can go ahead and expect the expected.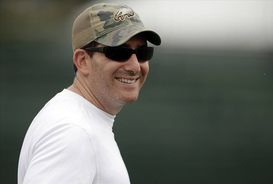 Howie Roseman and the Philadelphia Eagles are one of five teams looking to move back in the first round.
Adam Schefter of ESPN reports that five teams who are currently located within the first twelve selections are looking to trade down. Schefter names the Philadelphia Eagles (No. 4), Detroit Lions (No. 5), Cleveland Browns (No. 6), Buffalo Bills (No. 8) and Miami Dolphins (No. 12) as parties interested in sliding down from their assigned positions.
Here's where it gets even more interesting. We already know that the Atlanta Falcons and San Francisco 49ers have a desire to move up in the draft, but Schefter goes on to name the Dolphins as another organization looking to climb the ladder. That means Miami is working the phones with an interest in moving in either direction.
In the face of all this unpredictability, one thing does emerge as a certain: Mock drafters are going to have a hell of a time tying to nail 10+ correct picks on Thursday.
Hit me up on Twitter: @JoeFortenbaugh