July 17, 2013 -
Joe Fortenbaugh
NCAA bails on EA Sports
The NCAA announced via a press release on Wednesday that college athletics' governing body will not enter into a new contract with video game manufacturer EA Sports for the license of its name and logo for the NCAA Football video game franchise.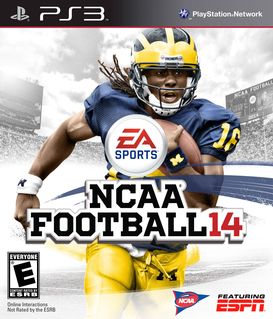 The popular series, which debuted in 1993 under the name Bill Walsh College Football, released its 21st installment on July 9 with former Michigan Wolverines quarterback Denard Robinson gracing the cover. The game picked up the name NCAA Football in 1998 after being known as College Football USA for two seasons.
The internet's version of mass hysteria broke out shortly after the press release hit the wire, but it's important to note that this does not spell the end of college football as it relates to the world of video games. The NCAA may be bailing on their association with EA Sports, but each college and university has the right to license their own trademarks for the video game. That means if EA Sports does release a 22nd installment of the game next year, it simply won't carry the NCAA name or any of the organization's logos.
Which should be viewed as a good thing for just about everybody. The less the NCAA is involved in our lives, the better.
Hit me up on Twitter: @JoeFortenbaugh