January 12, 2011 -
Joe Fortenbaugh
Never too early: Odds on the 2012 BCS Championship
It hasn't even been 48 hours since the Auburn Tigers put the finishing touches on a 14-0 season that culminated with a BCS Championship, but some online sportsbooks are already looking ahead to next year.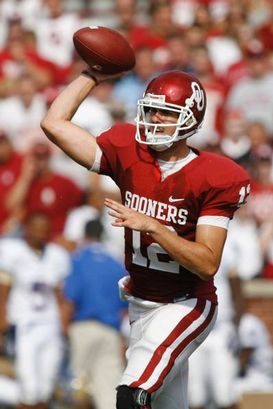 ICONLandry Jones and the Sooners? I think I'll pass.
And they've got their sights set on Bob Stoops, Landry Jones and the defending Big 12 champions.
According to Sportsbookgurus.com, the Oklahoma Sooners are expected to go off as the favorite to win the 2012 BCS Championship once online sportsbook Bodog.com releases their odds to the public. The official odds have not yet been posted, most likely due to the fact that several key players have yet to announce whether or not they will enter the 2011 NFL draft.
Per Sportsbookgurus.com, here are the expected odds on the top 12 teams:
<strong>Oklahoma Sooners: 3.85 to 1
Alabama Crimson Tide: 8 to 1
Boise State Broncos: 12 to 1
Florida Gators: 12 to 1
Florida State Seminoles: 12 to 1
Oregon Ducks: 12 to 1
LSU Tigers: 18 to 1
Nebraska Cornhuskers: 20 to 1
Ohio State Buckeyes: 20 to 1
Penn State Nittany Lions: 20 to 1
TCU Horned Frogs: 20 to 1
Texas Longhorns: 20 to 1
Other notables: Auburn Tigers (50 to 1), Miami Hurricanes (50 to 1), Michigan Wolverines (80 to 1), Stanford Cardinal (28 to 1), Wisconsin Badgers (30 to 1).
Got a prediction? Drop it in the comments section.
Hit me up on Twitter: @JoeFortenbaugh